Wagner Mercenaries Entering Belarus as Minsk Announces 'Road Map' for Joint Military Drills!
On Saturday, a large convoy carrying fighters from the Wagner private army was spotted entering Belarus from Russia. The convoy consisted of at least 60 trucks, buses, and other vehicles accompanied by Belarusian police. The vehicles had license plates from Russian-occupied areas of eastern Ukraine, where Wagner mercenaries had previously fought alongside Russian troops.
The convoy headed towards a military base outside Osipovichi, a town located 142 miles north of the Ukrainian border. Satellite images analyzed earlier showed the construction of tent-like structures at the base, indicating preparations for the arrival of the mercenaries.
Belarusian President Alexander Lukashenko had previously expressed his willingness to utilize Wagner's experience and expertise. He offered the fighters an "abandoned military unit" to set up camp. Reports from the Ukrainian Center for National Resistance suggested that around 240 Wagner fighters, along with 40 trucks and a significant amount of weapons, had arrived in the Osipovichi area. However, these reports could not be independently verified.
Ukraine's State Border Guard Service also observed groups of Wagner fighters crossing from Russia into Belarus. The Belarusian Defense Ministry confirmed that joint training exercises between Belarusian military personnel and the private mercenaries were planned, following a "road map" developed with Wagner's management.
Earlier in June, the Wagner group's founder and leader, Yevgeny Prigozhin, ordered his fighters to leave their camps in Ukraine and head towards Moscow to demand the removal of Russia's defense minister and General Staff chief. The mutiny posed a significant challenge to Russian President Vladimir Putin. However, Lukashenko brokered a deal between Prigozhin and the Kremlin, allowing the Wagner leader and his men to move to Belarus in exchange for ordering them back to the camps.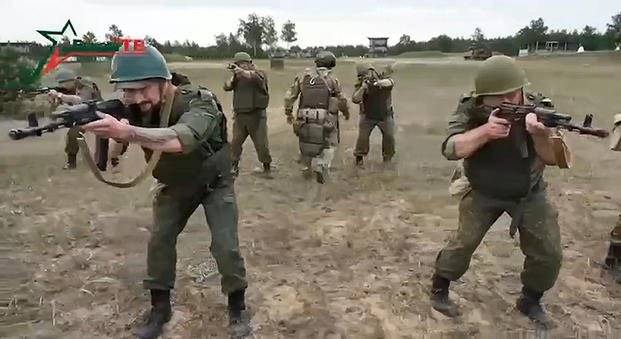 Russian President Putin indicated his intention to maintain Wagner as a single fighting force under its existing commander while downplaying Prigozhin's role. This suggests the Kremlin's efforts to secure the loyalty of the highly capable Wagner mercenaries in Ukraine.
Lukashenko has previously allowed the Kremlin to use Belarusian territory for military purposes, including sending troops and weapons into Ukraine. He has also welcomed a continued Russian armed presence in Belarus, including joint military camps, exercises, and the deployment of tactical nuclear weapons.