Poor living conditions in military barracks will take years to fix, officials say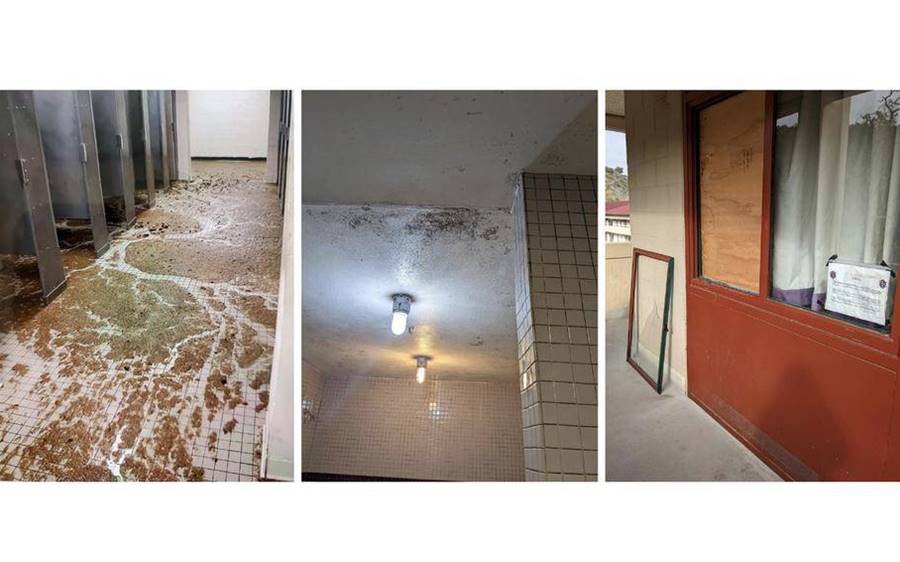 Junior-enlisted troops without dependents typically live in military-managed barracks. A Government Accountability Office report in September 2023 found some barracks pose serious health and safety risks. GAO investigators observed conditions such as sewage overflow, mold and mildew, and broken windows and locks. (Defense Department, Government Accountability Office)
WASHINGTON — The chronic neglect and underfunding uncovered in a recent investigation of substandard military barracks will take years to reverse and would cost the Army alone at least $6.5 billion, officials told lawmakers Wednesday.
The Army in recent years has poured $1 billion per year into improving housing, according to the service's deputy assistant secretary for housing, but that sum has not made a marked difference to by the Government Accountability Office.
The found junior enlisted troops in all the service branches living in barracks with mold, missing kitchenettes, sewage overflow, water-quality issues, rodent infestations, broken air conditioning and other unsafe conditions.
"I was a base commander at Ramstein [Air Base] and at Offutt Air Force Base [in Nebraska]. If I would have had these conditions in any of our barracks, I would have gotten fired," said Rep. Don Bacon, R-Neb., a former Air Force officer and the chairman of a new House panel focused on military quality-of-life issues. "I don't recall the standards being this way when I got out in 2014. Something has happened. We need to put our finger on it and get it fixed."
Elizabeth Field, the director of the GAO's defense capabilities and management team, said the Defense Department has for decades failed to meaningfully address the deplorable housing conditions experienced by its youngest service members, many of them fresh out of high school.
Service members at 10 military installations told investigators that they dealt with persistent mold, had trouble sleeping due to a lack of working air conditioners, woke up itching from bed bugs and felt unsafe because doors did not work. The topic of mental health came up in every discussion group, Field said.
"These are just a few of the statements we heard: 'It's depressing to come home to a dark box after work. I feel cramped and like the walls are closing in, and that causes me anxiety and stress. The barracks feel like living in a rundown motel or in a prison,' " Field said.
The problems highlighted in the report are similar to ones observed in privatized family housing in recent years, but the Defense Department has felt less pressure to fix the barracks, she said. Congressional intervention might be necessary to force the services into the kind of noticeable action that led to family housing reforms several years ago, Field said.
One of the most troubling findings by the GAO was the "hands-off approach" by the office of the defense secretary, which could not answer basic questions about how many barracks there were and whether they were complying with standards, she said.
Only two services, the Navy and Marine Corps, are bothering to even survey barracks residents about their satisfaction with housing, Field said. All the services are failing to routinely ask service members how barrack conditions are impacting their decision to reenlist — a violation of Defense Department requirements, she said.
"I think there has been a cultural perspective within the department that part of being in the military is toughing it out. And [that] this is just going get them ready for the military and, unfortunately, I think that has gotten us in part to where we are today," Field said.
Officials from the services said Wednesday that they were working to implement the report's recommendations and were committed to upgrading barracks.
"It's clear today we have significant work ahead in our unaccompanied housing to provide safe, clean, reliable, comfortable and dignified places for our sailors and Marines to call home," said Robert Thompson, the Navy's principal deputy assistant secretary for energy, installations and environment.
Carla Coulson, the Army's deputy assistant secretary for installations, housing and partnerships, said the service is "playing catch-up" after many years of not closely tracking housing maintenance and investments.
"This report, frankly, was not news to the Army," she said. "We're well aware, and our leadership, from our secretary, our chief of staff on down, are focusing very clearly on quality of life, and barracks is a piece of that."
The Army has 6,700 barracks buildings, and 300 of those used for permanent housing are in poor or failing condition, Coulson said. The service's budget request next year will include a multiyear investment strategy to sustain housing inventory, she said.
Congress routinely allocates more funding for housing than requested by the Pentagon, but it is still not enough to cover the massive price tag of making barracks safe and habitable, Field said. Installation leaders are often reluctant to ask for money to construct new barracks because they feel the request won't compete well with other priorities, she said.
"We spoke to a number of installation commanders who frankly told us that they felt sick about the conditions that their junior enlisted service members were living in," Field said. "They often recounted facing sort of impossible choices between where to put limited funding."