US troops test aerial drone that relays vital signs of wounded on the ground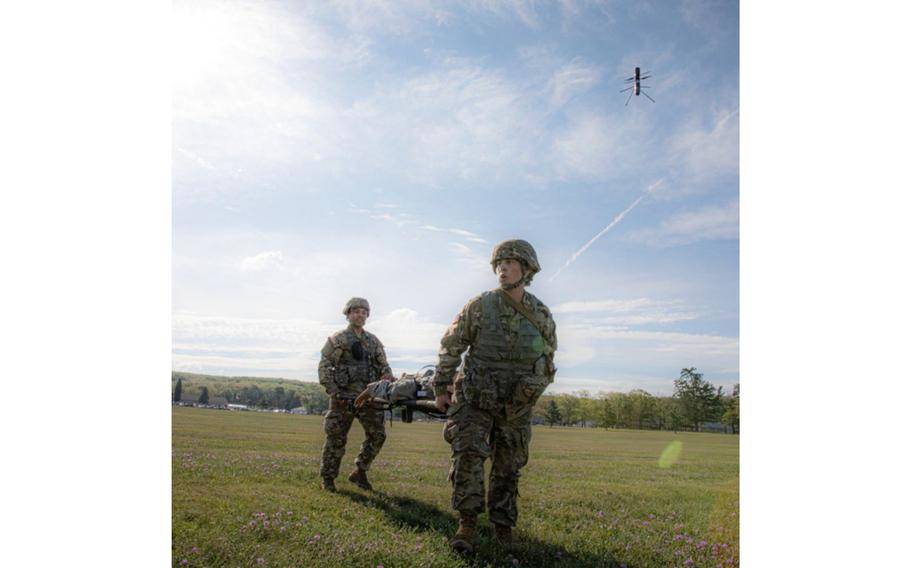 A medical drone watches over Iowa National Guard soldiers transporting a mock casualty during an exercise at Camp Grayling, Mich., Aug. 7, 2023. (Paige Bodine/U.S. Army)
A medical drone the Army is testing may one day prove the difference between life and death for American troops in combat.
Iowa National Guard soldiers trained with a drone that can scan wounded troops from the sky to get vital signs like heartbeat and breathing rates, Army officials said Wednesday. The drone also sets a geolocation pin to help medics find the wounded.
In a test during an August exercise, a squad leader with the 294th Medical Company Area Support huddled behind cover with medics as they used a drone to find mock casualties, said Army Sgt. Maj. Bryan Goff, who worked in the planning group for the exercise.
With the information supplied by the drone, they determined the condition of soldiers and distinguished them from mannequins, who were considered dead for exercise purposes.
"If there's one (soldier) that's more critical than the others, that's the one you need to save first, and you can make that decision before you leave cover," Goff said.
A drone scans a mock casualty for heartbeat and breathing rate during a military exercise at Camp Grayling, Mich., Aug. 7, 2023. The medical drone technology may one day allow medics to see which troops on the battlefield need medical aid most urgently. (Scott McGill/Arete)
The drone sensor can detect vital signs from 30 to 150 feet away, even through body armor, an Army statement during the August exercise said.
The prototype drone system is part of the VISTA project, which has been in the works for four years.
VISTA, which stands for Vision and Intelligence Systems for Medical Teaming Applications, has included two years of research with unmanned aerial systems, the statement said.
The Army is partnering with Arete, a California-based company that supplies the sensor system in the drone that scans people from afar, said Lori DeBernardis, a spokeswoman at the Army's Medical Research & Development Command.
The military plans to look into higher-quality cameras and more powerful computers for the system, DeBernardis said in an email.
The hope is that future medical drones will be able to identify wounds and whether the patient is conscious, DeBernardis said.