173rd Airborne Brigade soldiers remember soldier killed in Italy car crash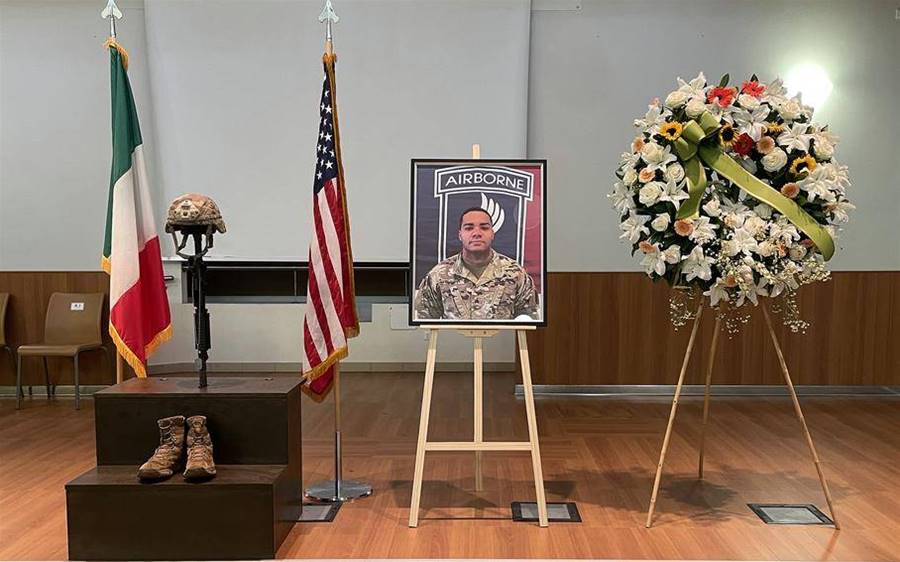 A photograph of Army Sgt. Devin Guary is displayed at a memorial service at Caserma Del Din in Vicenza, Italy Sept. 25, 2023. A paratrooper in the 173rd Airborne Brigade, Guary died in a car crash in Cittadella, Italy, on Aug. 14, 2023. (Brian Erickson/Stars and Stripes)
VICENZA, Italy — Colleagues of a U.S. Army paratrooper who was killed last month in a nighttime crash on an Italian road held a memorial Monday at Caserma Del Din, paying tribute to his dedication to the job and kindness to others.
Sgt. Devin Guary, a 31-year-old North Carolina resident who was stationed at the base with the 173rd Airborne Brigade, was found dead inside his car in Cittadella, about 30 minutes east of Vicenza.
His Ford Fiesta ended up in a ditch and had about 20 inches of water in it, local media reports said.
The cause of the crash is still under investigation,Col. Michael Weisman, a spokesman for U.S. Army Southern European Task Force Africa, said Monday.
"It is with heavy hearts that we reflect upon the loss of a dedicated paratrooper, a cherished friend and beloved comrade," Chief Warrant Officer 2 Peter Kuch said at the memorial for Guary, who was an automated logistical specialist.
A 2010 graduate of Overhills High School in Spring Lake, N.C., Guary was married and the father of a young daughter, according to an online obituary.
He was laid to rest at Sandhills State Veterans Cemetery in North Carolina on Sept. 6, according to information provided at the memorial service.
"He possessed a contagious smile that could brighten even the darkest day," said Kuch,of the Supply Support Activity for Caserma Del Din. "His kindness knew no bounds."
three weeks ago shows numerous images of Guary with his wife and infant daughter.
Capt. Jack Powell, the unit chaplain, spoke Monday about the impact Guary had on those around him, saying it was felt not just in his brigade but also in the local community.
"Sgt. Devin Guary chose to live his life in service to our nation and to others," Powell said. "He was a man who loved his family, his soldiers and his work."
Soldiers and Italian civilians shared their fond recollections of him during a balloon release Tuesday at Monte Berico, a hilltop site overlooking Vicenza that is dominated by a 15th-century basilica.