Congress moves to protect pay for troops as government shutdown nears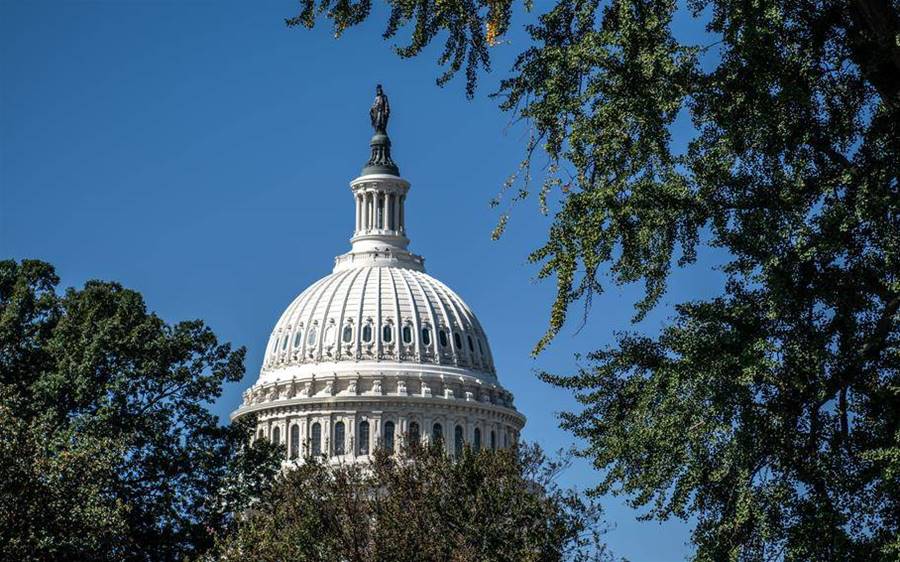 The U.S. Capitol is seen on Sept. 14, 2023, in Washington. (Carlos Bongioanni/Stars and Stripes)
WASHINGTON — Lawmakers are scrambling to ensure troops will be paid in case of a looming government shutdown, including Coast Guard members who typically go without paychecks during the closing of federal agencies.
In the House, Rep. Jennifer Kiggans, R-Va., a former Navy helicopter pilot, is pushing a bill that will keep service members paid if Congress fails to agree on a funding plan by Oct. 1. Sen. Dan Sullivan, R-Alaska, a Marine Corps veteran, is leading a similar effort in the Senate alongside Sen. Ted Cruz, R-Texas, who introduced a separate bill focused on Coast Guard pay.
"Our service members shouldn't suffer because of Washington's dysfunction," Kiggans said. "As we continue working to avoid a government shutdown at the end of the month, this legislation will give our troops the financial certainty they deserve."
Active-duty and could start missing paychecks if lawmakers cannot agree on either short-term or full-year funding for the Pentagon. House Republicans have twice failed in recent weeks to put their defense appropriations bill on the floor for a vote due to party infighting.
The proposed military pay legislation guarantees the same paycheck protections Congress gave troops hours before the start of a 16-day government shutdown in 2013. The military was largely unaffected by the last shutdown in late 2018 to early 2019 because the Pentagon had a congressionally approved budget at the time, though the Coast Guard continued to work without paychecks for 34 days.
The Coast Guard has historically shouldered the largest financial burden during shutdowns because it is operated by the Department of Homeland Security instead of the Defense Department in peacetime. In 2019, some Coast Guard members and their families had to resort to using food pantries and relied on short-term loans to pay for housing, Cruz said.
"Imagine how you felt if you were in the Coast Guard watching your brothers and sisters in the other services getting paid and you weren't," Sullivan said in a floor speech last week. "This should never happen again."
Cruz and Sullivan blamed Democratic leaders for blocking passage of Coast Guard-specific legislation, though Sen. Patty Murray, D-Wash., said she objected to the Republican senators' bill because it only ensures pay for Coast Guard members if the rest of the military gets paid.
"This bill … won't actually stop anyone from missing a paycheck in a few weeks because the looming shutdown would also stop pay for the military," Murray said. "The pressing issue right now is making sure everyone gets paid."
The organization Blue Star Families said one in three military families has less than $3,000 in savings, a sum that is not enough to cover the cost of housing and child care in most places. The Defense Department estimates nearly one in four service members has trouble putting food on the table.
"Putting our families at financial risk puts our national security at risk, and we simply can't allow that to happen," said Kathy Roth-Douquet, the founder and CEO of Blue Star Families.
A shutdown will halt all nonessential activity in the military, including moves to new duty stations and some training exercises. If Congress does not pass protections for military pay, troops and civilian defense workers will receive back pay for any missing paychecks once federal funding resumes.
The House this week is set to again try to advance a divisive Pentagon funding bill loaded with conservative agenda items targeting diversity programs and other progressive initiatives. The legislation is unlikely to pass the Democrat-led Senate.
Hard-right Republicans in the House are also complicating efforts to pass a short-term funding bill known as a continuing resolution that would give Congress more time to settle funding disagreements. The Senate is expected to move first on the stop-gap legislation as House Republicans remain at odds over spending levels and continued funding for Ukraine to help the country beat back Russian invaders.