Army ready to ramp up arms aid to Israel if Congress acts, service leaders say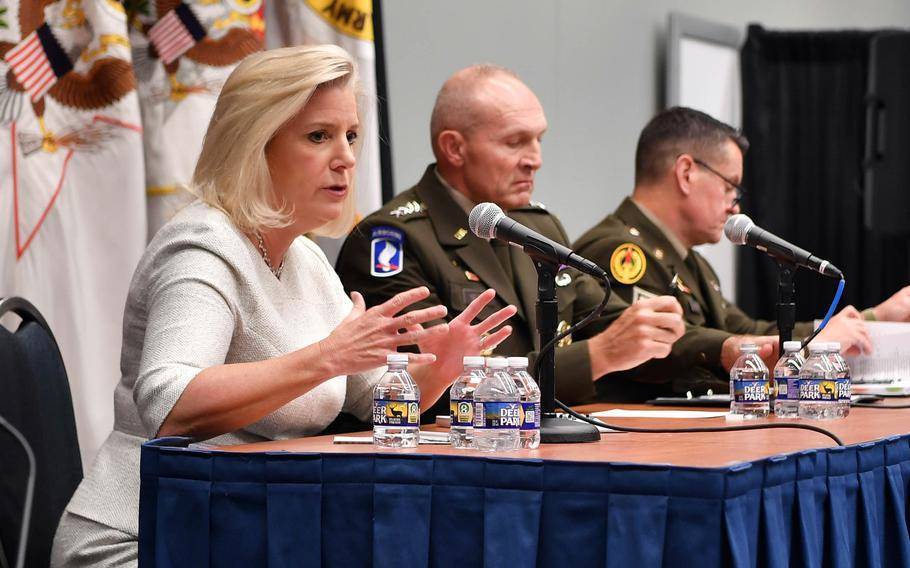 U.S. Army Secretary Christine Wormuth, Army Chief of Staff Gen. Randy George and Sgt. Maj. of the Army Michael Weimer address the audience at the Association of the U.S. Army conference in Washington, D.C., Oct. 9, 2023. (Derek Hamilton/U.S. Army)
Top U.S. Army leaders said this week that they are prepared to "lean forward" when it comes to delivering arms to Israel, but that lawmakers will need to step up funding to make it happen.
The U.S. already has begun sending critical munitions to Israel, which declared war over the weekend after Hamas launched a large-scale attack on Israel's territory, killing and taking hostage hundreds of civilians in the process.
On Tuesday, President Joe Biden said the U.S. will provide ammunition and interceptors to Israel to replenish the Iron Dome and reiterated support for Israel.
He also confirmed that at least 14 Americans were killed in the violence over the weekend, and that an undisclosed number of U.S. citizens are being held by Hamas.
"We stand ready to move additional assets as needed," he said.
In the days and weeks ahead, the Pentagon likely will be under intense pressure to meet the competing demands of supporting Ukraine in its ongoing war against Russia and Israel's war with Hamas.
"We need additional support from Congress. So, I hope we'll see that soon," Army Secretary Christine Wormuth said Monday at the Association of the U.S. Army's annual meeting in Washington.
Army Chief of Staff Gen. Randy George, speaking alongside Wormuth, said he was confident the service is prepared to meet Israel's needs.
Still, to support two U.S. partners in different wars means an already stretched military industrial base will need to further ramp up production.
"We're obviously at the early stage of the process of evaluating our ability to support what the [Israel Defense Forces] needs," Wormuth said. "And just as we have with Ukraine, we're going to weigh obviously the impacts of requests to our readiness."
Nonetheless, "I would argue that just as we lean forward with Ukraine, I think the intent is to lean forward in support of Israel," she said.
But as the Pentagon deals with two crises overseas, political turmoil in Washington complicates matters. The House of Representatives is still without a leader and the threat of a government shutdown looms when a short-term spending bill expires next month.
Wormuth said the Army's ability to support Israel and Ukraine simultaneously hinges on additional funding from Congress.
Meanwhile, Wormuth called on Congress to act on hundreds of senior officer nominations and promotions that have been held up by Sen. Tommy Tuberville. In blocking the moves, the Alabama Republican has cited a Pentagon policy allowing troops to be reimbursed for travel expenses if they must leave the state where they are stationed to obtain an abortion.
"This hold is hurting our military readiness and causing needless uncertainty for those officers and their families," she said. "It's also frankly a discouraging signal for our talented junior and field grade officers as they contemplate their own futures as senior Army leaders."
During the three-day AUSA conference, Army leaders are discussing an array of challenges confronting the service, ranging from efforts to modernize the force to recruiting problems and quality of life issues for junior troops.
In recent weeks, the Army has come under fire for the condition of barracks where soldiers live. Last month, the Government Accountability Office issued a scathing report that detailed how thousands of soldiers were forced to live in squalor as they endured raw sewage overflows, dangerous gas leaks and rodent infestations.
Wormuth said the Army has been pouring resources into improving barracks conditions, spending about $1 billion annually on them. However, the service faces a $6.5 billion maintenance backlog, she said.
"There's still so much that we need to do to address the quality of our aging barracks," Wormuth said, adding that support from Congress is required to make barracks upgrades a long-term investment priority.