Army command sergeant major demoted and discharged for sex offenses in Bosnia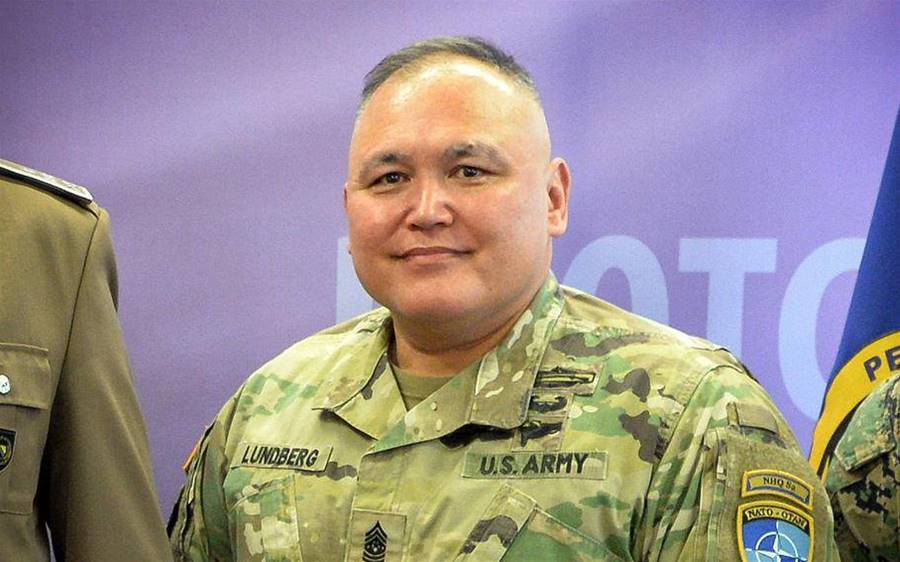 Command Sgt. Maj. Joseph Lundberg at the Peace Support Operations Training Center in Bosnia and Herzegovina, Feb. 23, 2022. Lundberg pleaded guilty to assault and sexual harassment charges for crimes committed in Bosnia and was sentenced Sept. 26, 2023, at a trial in Kaiserslautern, Germany, to jail time, a bad conduct discharge and reduction in rank to specialist. (Peace Support Operations Training Center)
KAISERSLAUTERN, Germany — An Army senior enlisted leader who pleaded guilty to assault and sexual harassment charges will serve 30 days in jail and was sentenced Tuesday to a discharge at a much lower rank.
Joseph Lundberg committed the crimes in Bosnia and Herzegovina last year while he served as command sergeant major of NATO headquarters Sarajevo.
Under the terms of a plea deal and sentencing by military judge Col. Charles Pritchard, Lundberg will end his 30-year career as an E-4 with a bad conduct discharge. He was sentenced to five 30-day jail terms for each of the counts he pleaded guilty to but will serve those sentences concurrently.
Lundberg pleaded guilty to two counts of assault that stemmed from a drunken evening at a bar at Camp Butmir, where the NATO headquarters is located.
He admitted to snapping a female colleague's bra strap and making an inappropriate comment while at the bar.
Later that night, another acquaintance who lived off base was too intoxicated to go home and instead went to Lundberg's quarters to sleep. While she was there, Lundberg touched her breasts without consent.
"What started as a night of celebration rapidly turned into an indescribable 18-month nightmare from which the trauma still endures," the woman said in court, adding that she has spent nearly $15,000 on counseling to help her process what happened.
"Just hearing the letters 'CSM' has been a daily reminder of what he did," the woman said, referring to the initials for command sergeant major.
Command sergeant majors are the highest-ranking enlisted soldiers in the military.
A civilian colleague testified that Lundberg repeatedly made sexual advances, which led to his guilty plea on one count of sexual harassment.
"I felt very stressed, which my husband, my child and my family felt every day I came back from work," the colleague told the court amid tears.
She said she feared that coming forward might result in financial implications for her family, including the loss of her job.
Lundberg also pleaded guilty to disrespecting a superior female commissioned officer in Bosnia and Herzegovina by making "degrading" comments about her sexual behavior.
His fifth guilty plea was to an obstruction of justice charge stemming from his deletion of text messages related to his offenses.
Lundberg told the court that he suffered from alcoholism, anxiety, depression and post-traumatic stress disorder when the offenses were committed in early 2022, but he said he nevertheless understood the wrongfulness of his actions.
"I failed in my role as command sergeant major of NATO Headquarters Sarajevo. I made unforgivable mistakes ... and jeopardized the very vital mission of NATO Headquarters Sarajevo," Lundberg said.
Lundberg, who is married with grandchildren, initially faced a maximum of nine years in prison.
The plea deal threw out four counts of sexual assault charges and one for making threats. It also reduced the maximum punishment to 30 days for each count, a bad conduct discharge, forfeiture of all pay and allowances and a reduction to the pay grade of E-1.
The minimum sentence under the deal was 30 days in jail for each count and a bad conduct discharge.