Improper storage damages $1.8 billion in Army ground combat equipment, audit finds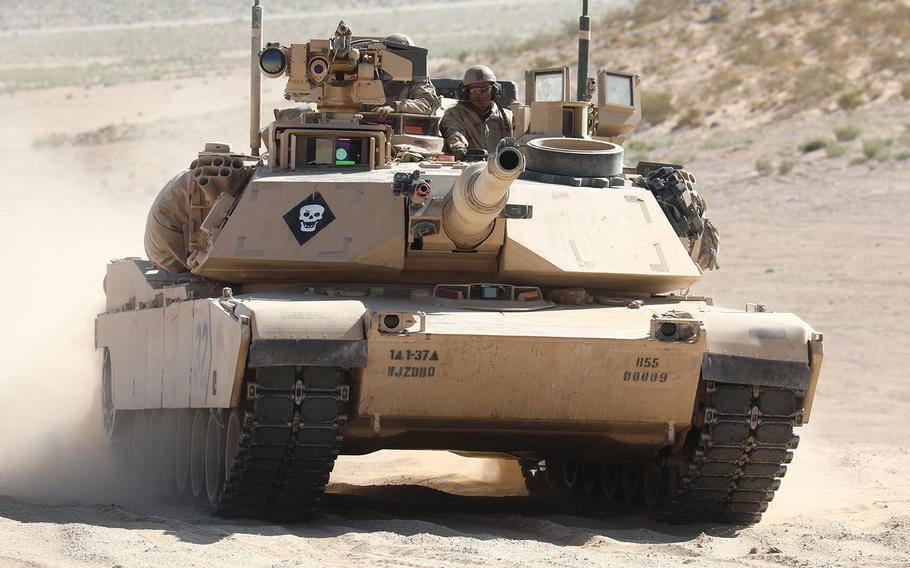 A M1A2 Abrams tank on a training exercise at the National Training Center at Fort Irwin, Calif. (Nathan Franco/Fort Irwin Operations Group)
WASHINGTON — Roughly $1.8 billion in Army ground combat equipment is "deteriorating or at an increased risk of deterioration" due to improper storage, according to a Defense Department audit.
A report conducted by the department's inspector general released Monday uncovered how the Pentagon stores and maintains components of the Army's land weapons and equipment. The report highlighted issues at two distribution centers controlled by the Defense Logistics Agency, or DLA, responsible for $1.96 billion in repair parts and components. The DLA's distribution division handled $3.87 billion of Army ground combat gear as of July 2022, according to the report.
Spare parts stored at these facilities support some of the Army's key weapons such as Bradley Fighting Vehicles, Stryker armored vehicles and Abrams tanks.
"We found that nearly $1.31 billion (67%) in parts and components are in immediate danger of degrading and that the improper storage and care of parts and components created safety hazards that could potentially lead to injuries among DLA personnel," DOD Inspector General Robert Storch said in the report.
In total, $1.8 billion, or 92%, of the inspected equipment was deemed at "increased risk" of falling apart because DLA storage facilities failed to follow Pentagon policy.
Among the items in critical condition were 80 gas turbine engines worth more than $89 million. The report stated officials should have kept the engines indoors, but they were stored outside since 2020. Other issues included transmission assemblies being stored on open pallets without any packaging, increasing the risk of corrosion and deterioration. Vehicular track shoes and hydraulic transmissions were also found to be stored outside.
Officials opened a container containing one of the hydraulic transmissions, which showed a large amount of water and oil at the bottom, the report said.
"DLA distribution did not have adequate guidance and training to ensure that its staff fully understood their responsibilities for protecting serviceable materiel in storage from environment elements and to prevent unnecessary deterioration of unserviceable materiel," the report states.
The inspector general's report highlighted 11 recommendations to the DLA. The department has completed two recommendations, six are resolved but remain open and three remain unresolved. Some of the recommendations include implementing a formal training program and the leader of the Army Tank-Automotive Armaments Command requiring materiel managers to conduct periodic inspections.