VP Harris, Sen. McConnell tout success after KY Army depot destroys chemical weapons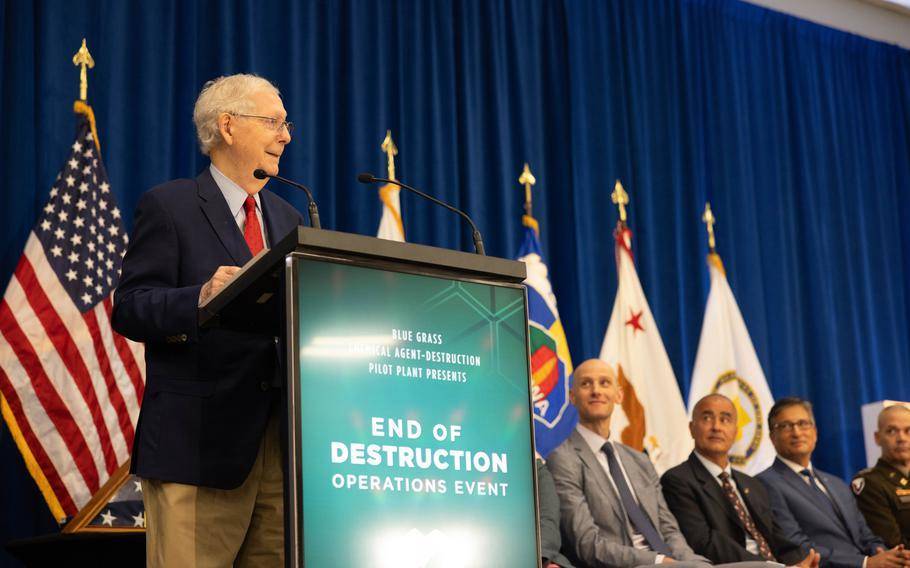 Following years of work from the Blue Grass Army Depot in Richmond, several high-profile state and federal officials Wednesday, Oct. 11, 2023, including Sen. Mitch McConnell, celebrated the complete destruction of the U.S. chemical weapons stockpile. (Senator Mitch McConnell/Facebook)
(Tribune News Service) — Following years of work from the Blue Grass Army Depot in Richmond, several high-profile state and federal officials celebrated the complete destruction of the U.S. chemical weapons stockpile Wednesday.
Both Sen. Mitch McConnell (R-KY) and Gov. Andy Beshear (D) were in attendance for the event and gave speeches, expressing their gratitude for the work done at the plant. Vice President Kamala Harris also wrote a letter to the Blue Grass community celebrating the weapons destruction, which was read by Deborah Rosenblum, assistant secretary of defense for nuclear, chemical and biological defense programs.
"I extend my most sincere congratulations to all of you for helping the United States achieve a critical milestone — the verified destruction of the last declared chemical weapons stockpile in the world," Harris wrote in her letter. "Since 2019, your team has shown the utmost care for the safety of each other, your neighbors in Kentucky, and the environment as you completed this noble mission."
The Blue Grass Chemical Agent-Destruction Pilot Plant began safely destroying more than 523 tons of chemical agent stored in rockets at Blue Grass Army Depot four years ago on June 7, 2019. The chemical agent was stored in five different types of rockets that had been stored at the depot as early as the 1940s into the mid 1960s.
In July, officials with the project announced they had destroyed the last rocket in the stockpile, an M55 rocket containing GB nerve agent, also known as sarin.
Harris wrote that the team helped support the country's commitment to the Chemical Weapons Convention and the advancement of international rules and norms.
"For years to come, we will look back on this accomplishment with gratitude for your service and a deeper resolve to prevent the stockpiling, production, and use of chemical weapons around the world," Rosenblum read. "Thanks to you, we are one step closer to realizing a world free of chemical weapons. You have made our country proud."
McConnell called the completion of the project not only an accomplishment for Madison County, but for the world.
"We stand on the threshold of a new era in American defense, one without the weapons of terror," McConnell said. "This achievement is as much a global victory as it is a global triumph."
McConnell also called his involvement with the project one of his greatest honors of his career in politics.
"Today we achieved what once seemed unimaginable," McConnell said. "And together now, Madison County celebrates the triumph at [the] close of this chapter in American history."
Beshear told the audience Wednesday that the community and the country are safer as a result of the work done with the project.
"In Kentucky, we know how to get things done, and that's exactly what we did here for our country," Beshear said.
©2023 Lexington Herald-Leader.
Visit .
Distributed by .