Newly reactivated Army air defense battalion in Germany will keep foes 'up at night'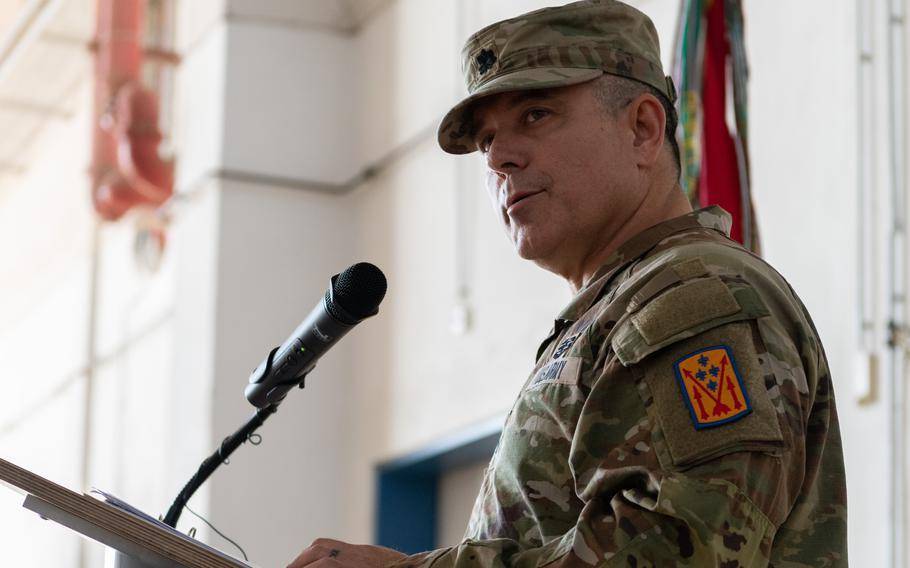 Army Lt. Col. Eric Ackles, commander of 1st Battalion, 57th Air Defense Artillery Regiment, speaks at the unit's reactivation ceremony Oct. 4, 2023, at Katterbach Kaserne in Ansbach Germany. (Phillip Walter Wellman/Stars and Stripes)
ANSBACH, Germany — A U.S. Army unit that traces its beginnings to the world war that brought down the Russian Empire was reactivated Wednesday to help Europe deal with a contemporary war of Russian aggression on its doorstep.
The 1st Battalion, 57th Air Defense Artillery Regiment will be based in this Bavarian city and support ground forces with short-range air defense.
It will initially work with the Avenger system, which uses surface-to-air missiles to shoot down threats posed by planes, helicopters, drones and cruise missiles.
American air defense teams were rushed into countries on NATO's eastern flank following Russia's invasion of Ukraine in February 2022 amid fears of a potential spillover.
At a NATO summit in Madrid a few months later, President Joe Biden announced the creation of , based in Sembach, to provide command andcontrol for all Army air and missile defense forces in Europe. He also announced that the 1st Battalion would reactivate.
The work of the unit's soldiers is sure to hold the attention of American adversaries, Col. Bruce Bredlow, commander of the 52nd Air Defense Artillery Brigade, said at a reactivation ceremony Wednesday.
"The capability that you are building will confuse their calculus and will keep them up at night," Bredlow said.
The battalion is one of three that now fall under Bredlow's brigade.
In addition toanother short-range unit — which is also based at Ansbach and operates the Army's new maneuver short-range air defense system, or M-SHORAD — one works with the long-range Patriot system and is based in Baumholder.
Soldiers assigned to 1st Battalion, 57th Air Defense Artillery Regiment take part in the unit's reactivation ceremony in Ansbach, Germany, on Oct. 4, 2023. (Phillip Walter Wellman/Stars and Stripes)
The 1st Battalion traces its lineage back to 1917 and participated in both world wars. It was last inactivated in 1973. By the time World War I ended in 1918, Russia's Tsar Nicholas II had been overthrown by the Bolsheviks, who went on to create the Soviet Union. The modern-day Russian Federation is Moscow's successor to the USSR.
The newly reactivated unit will be ready to deploy troops and support the existing short-range battalion within the next year, according to commander Lt. Col. Eric Ackles.
"We will integrate with them, and it will alleviate some of those deployments to the eastern flank for all the units," Ackles said Wednesday.
In about five years, 1st Battalion is scheduled to transition to a new system known as Indirect Fire Protection Capability, which is still being developed, Ackles said, adding that the battalion will add a fourth firing battery then.
Of the battalion's three initial batteries, two will be based at Ansbach. The third, in Vicenza, Italy, is scheduled to be activated next week.
Its new command sergeant major, Jason Abitua, said the troops know what's at stake.
"They understand that this is a very important duty station for them, (that) it's not just like being at a base back in the United States," Abitua said. "We're positioned here for a reason."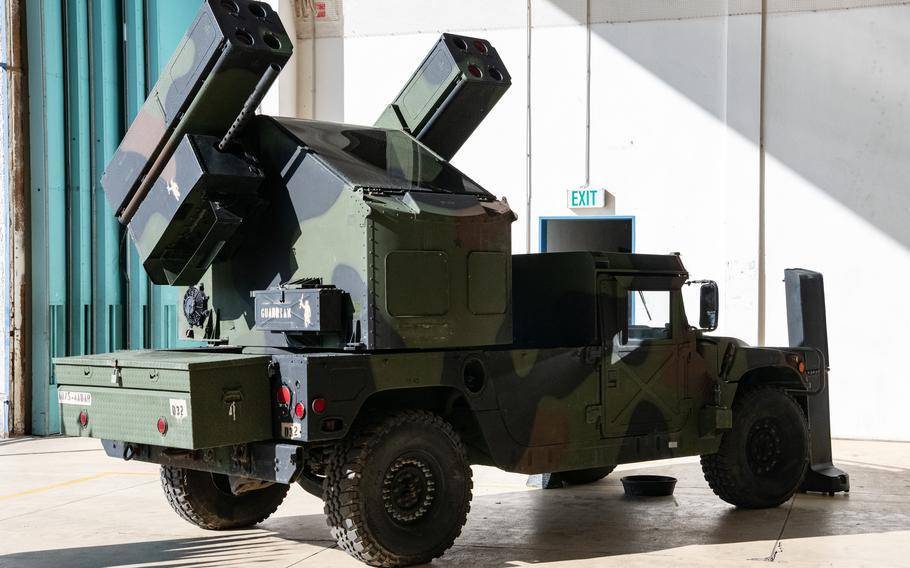 An Avenger Air Defense System is positioned in a hangar at Katterbach Kaserne in Germany on Oct. 4, 2023, when 1st Battalion, 57th Air Defense Artillery Regiment was reactivated. The unit will provide short-range air defense with Avengers. (Phillip Walter Wellman/Stars and Stripes)