'Incredible loss': Army IDs 2 soldiers killed in Alaska accident as specialists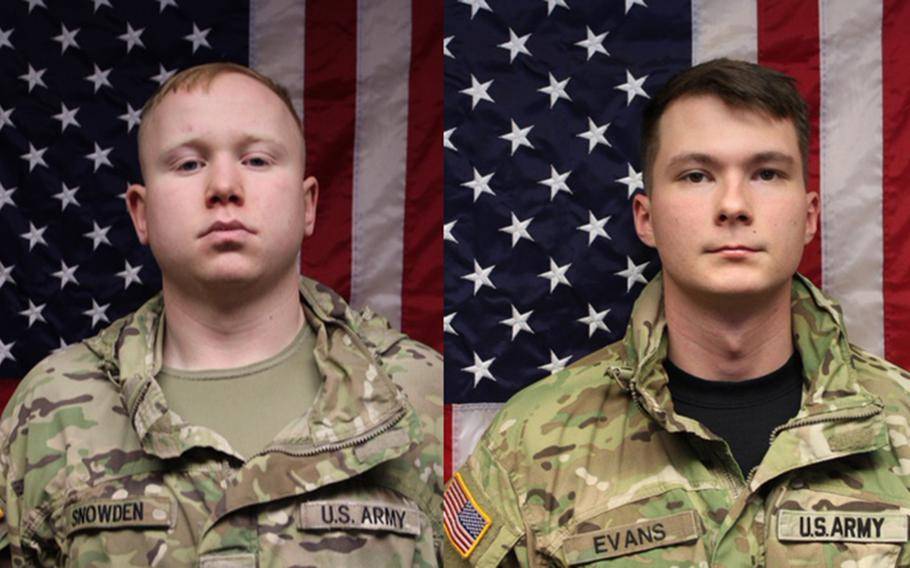 Spc. Jeremy Daniel Evans, 23, of Knoxville, Tenn., and Spc. Brian Joshua Snowden, 22, of Londell, Miss., were among 17 soldiers riding in a tactical vehicle that overturned near Fairbanks, Alaska. (U.S. Army)
The U.S. Army has identified the two soldiers killed Monday when a tactical vehicle overturned on a dirt road 30 miles south of Fairbanks, Alaska.
Spc. Jeremy Daniel Evans, 23, of Knoxville, Tenn., and Spc. Brian Joshua Snowden, 22, of Lonedell, Mo., were among 17 soldiers riding in the Light Medium Tactical Vehicle, the 11th Airborne Division announced in a news release Wednesday.
Snowden and Evans both joined the Army in July 2020 and trained at Fort Moore, Ga., the release said. Evans relocated to Alaska in January 2021 and Snowden arrived two months later.
"This is an incredible loss for all of us across the division," the 11th's commander, Maj. Gen. Brian Eifler, said in the release. "Our thoughts and prayers go out to the families, friends and fellow soldiers of Spc. Evans and Spc. Snowden."
The vehicle was taking 17 soldiers, including Evans and Snowden, from Fort Wainwright to the Yukon Training Area near Salcha when it skidded and flipped, U.S. Army Alaska spokesman John Pennell said Tuesday. 
The accident injured 12 of the soldiers, who were given first aid and taken to Fairbanks Memorial Hospital. Some were flown there by helicopter.
Eight were released that day and two remained hospitalized in stable condition Wednesday evening, according to Wednesday's news release. 
Two severely injured soldiers were flown by air ambulance to Providence Alaska Medical Center in Anchorage, the release said. They were in stable condition on Wednesday evening. 
No other vehicles were involved in the incident, which the Army is still investigating. It plans to dispatch a team from the accident investigations unit at the Army Combat Readiness Center in Fort Novosel, Ala., formerly Fort Rucker. 
Fort Novosel investigators are routinely dispatched to any "Class A" accident that involves the loss of life, permanent disability or property damage of more than $2 million. 
About 7,200 soldiers are based at Fort Wainwright in Fairbanks, the northernmost active-duty military installation in the United States. It's frequently used for cold weather training and weapons testing in harsh conditions. The base is home to 1st Brigade Combat Team of the 11th Airborne Division, nicknamed "Arctic Angels," and also home to the Arctic Aviation Command.
"While we're always challenged by the environment, we're Arctic Angels, we overcome these challenges and accomplish our mission by being a team, and teams take care of one another, especially in times like these," Eifler said. 
Monday's crash is the second fatal accident this year for Army troops in Alaska. Three soldiers died in April when two helicopters collided while flying to Fort Wainwright.