Maine National Guard helicopter assists in rescue of injured hiker on Mount Katahdin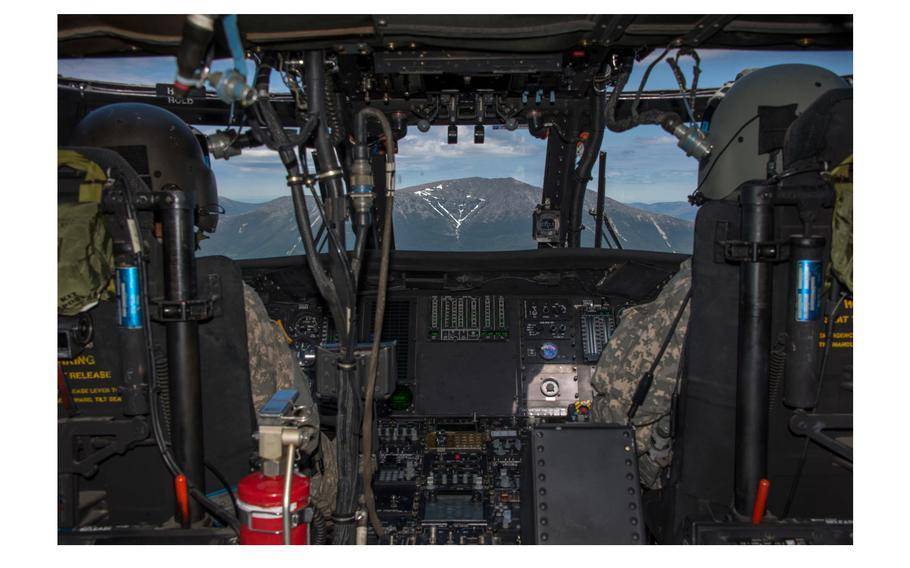 A Maine Army National Guard UH-60 approaching Mount Katahdin in Maine. (Jon Campbell/Maine Army National Guard)
(Tribune News Service) — A Maine National Guard helicopter assisted in rescuing a woman who broke an ankle Wednesday while hiking the Knife Edge trail on Mount Katahdin.
Bangor's Army Aviation Support Facility got a request from Baxter State Park officials to assist with a rescue shortly before 5 p.m., the guard said. In less than an hour, a flight crew was assembled and on its way.
The 43-year-old woman, who was not identified, was hiking with a group, and members were able to help move her to a safe area near the intersection of the Helon Taylor and Knife Edge trails. Guard members then used a cable to hoist her into the aircraft as it hovered over the mountain, the guard said. The woman was taken by helicopter to nearby Millinocket Municipal Airport and transferred to an ambulance and then to a hospital in Bangor.
"Having the ability to request federal resources for rescues in Baxter State Park is crucial to the timely extraction from a high-mountain wilderness environment," Kevin Adam, director of Baxter State Park, said in a statement.
"We're glad to have been a part of this success story, working alongside Baxter staff and local first responders," added Maj. Gen. Douglas Farnham, the Maine National Guard's adjutant general. "On top of our federal mission, it's our privilege to be able to support our neighbors and communities. Our men and women train hard to live up to our motto of 'Always Ready, Always There.' "
Last month, the Guard assisted in the rescue of six hikers who were stuck on the Knife Edge trail and forced to spend the night atop the mountain.
The Knife Edge trail at the top of Mount Katahdin is a popular but sometimes dangerous 1.1-mile rock scramble along a narrow ridge with steep drop-offs on both sides.
(c)2023 the Portland Press Herald (Portland, Maine)
Visit the
Distributed by .