Army vet forced to quit as cop because of burn pit illness wins nearly $2.5M in lawsuit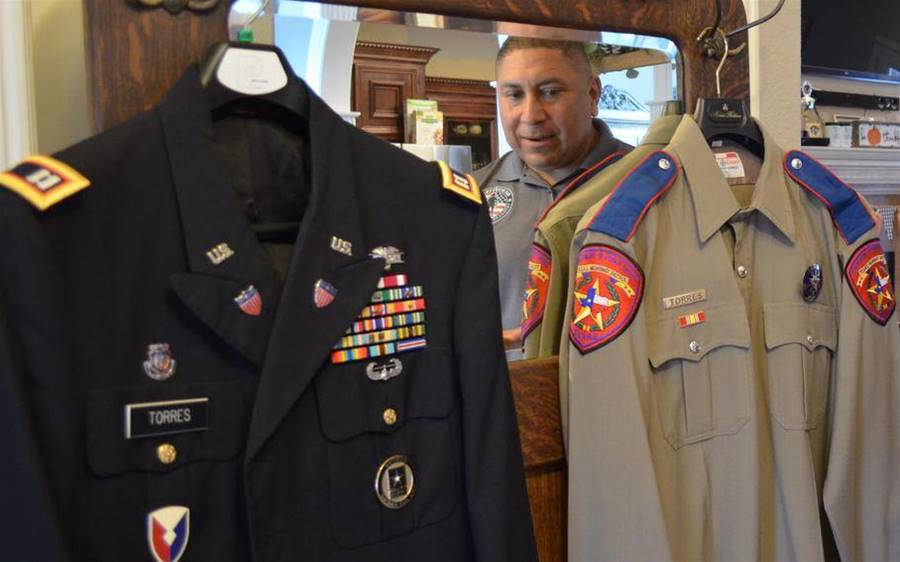 Le Roy Torres looks at the two uniforms that defined his adult life — his final dress uniform from 23 years in the Army and Army Reserve, from which he medically retired as a captain, and the final uniform that he wore during his 14 years as a Texas state trooper, at his home in Robstown, Texas, on Oct. 3, 2019. Torres sued the state of Texas in 2017 because he believed he was forced out of his job as a trooper due to injuries that he sustained on deployment. A jury on Sept. 29, 2023, agreed with him and awarded him nearly $2.5 million.  (Rose L. Thayer/Stars and Stripes)
AUSTIN, Texas — An Army Reserve veteran who was the driving force behind last year's sweeping reform of health care for toxic exposure was awarded nearly $2.5 million in a Texas courtroom Friday after a jury agreed he was forced out of his job as a Texas state trooper because of war-related illnesses.
Retired Capt. Le Roy Torres first filed his wrongful termination lawsuit against the Texas Department of Public Safety in 2017 and took his fight all the way to the Supreme Court.
Torres claimed in his lawsuit that he returned from a deployment to Iraq in 2007 and began to have breathing problems connected to his time overseas, and he was forced out of his job as a state trooper — a violation of the Uniformed Services Employment and Reemployment Rights Act of 1994, which protects civilian employment of service members.
"It has been a tremendous grueling journey of legal battles," Torres said in a statement. "Today, justice was served upholding the principles of USERRA and ensuring that the rights of service members are protected."
Torres spent his deployment at Camp Anaconda in Balad, Iraq, where toxic fumes from a 10-acre burn pit wafted through the air. His unit's living area was within a mile of the pit, where everything no longer needed was burned including medical waste, aircraft engines, computers and tires.
Even before leaving Iraq, Torres said he began to have severe headaches. Once home, he began having chest pains and other symptoms. He has since been diagnosed with terminal lung disease, toxic brain injury and autoimmune issues.
State attorneys argued the suit should be dismissed because Texas has sovereign immunity against private damage suits unless Congress has waived its immunity. Without that waiver, only the U.S. government can sue the state under a federal law, not a citizen.
The Supreme Court sided with Torres in June 2022, and the lawsuit finally moved forward in Nueces County, where Torres lives and operates Burn Pits 360, a nonprofit dedicated to toxic exposure advocacy.
After a five-day trial, a six-member jury unanimously sided with Torres and awarded nearly $2.5 million for the salary, benefits and anticipated promotions that he would have earned since he was pressured to resign in 2012, said Brian Lawler, Torres's attorney. He credited their strong evidence to support how little the department did to act on two accommodation requests that Torres filed in 2011.
"There was no evidence at all (literally none) that DPS looked for another position for him to fill, despite their lawful, affirmative duty to do so," Lawler said in a statement.
Texas DPS did not immediately respond to a request for comment on the verdict.
"As citizen-soldiers, we deserve to keep our professions when we return from serving our nation, such as a deployment, subsequently accommodating the injured veteran if they return with certain limitations," Torres said. "We should not have to bear the burden alone due to illnesses or injuries caused by an instrumentality of war."
During the time that Torres was fighting this legal battle, he also fought against the Department of Veterans Affairs and Congress to have toxic exposure from burn pits recognized as causing certain illnesses and qualify veterans for disability and treatment from the VA.
Torres often traveled to Washington to testify on Capitol Hill and walk the halls of Congress, even pulling in the support of comedian Jon Stewart. After many failed attempts, Congress passed the Sgt. 1st Class Heath Robinson Honoring Our Promise to Address Comprehensive Toxics Act of 2022, or PACT Act.
The new law added more than 20 health conditions to the list of those presumed to be caused by toxic exposure and opens VA benefits to millions of veterans. The VA said it's the largest expansion of health care and benefits in its history. The law required the VA provide toxic exposure screenings to every veteran enrolled in VA health care and improve research and treatment for related illnesses.