Johnny Depp to Return to "Pirates of the Caribbean" Under ONE Condition & It Has Nothing to Do With Money
Actor Johnny Depp will make his triumphant return as  Captain Jack Sparrow in Disney's Pirates of the Caribbean film franchise, as long as one condition is met. (And it has nothing to do with money.)
The Last Time Fans Celebrated a New "Pirates" Release
Disney's Pirates of the Caribbean: Dead Men Tell No Tales, also referred to as Pirates 5, hit the box office on May 26, 2017. In the fifth film, a group of ghost-like soldiers from the Spanish Royal Navy escape from the Devil's Triangle, a mysterious part of the Caribbean that's surrounded by huge reefs and ruled by supernatural powers–a place " where the dead live and the living die, [it] was avoided by every sailor worth his salt."
The band of ghostly soldiers is led by an old nemesis of  Captain Jack Sparrow–Captain Armando Salazar (played by actor Javier Bardem), who has instructed his mob of unsavory freebooters to kill every pirate at sea, including Jack Sparrow. Sparrow discovers that his hope for survival lies in finding and claiming for himself the legendary Trident of Poseidon, as the master of the trident is also master of the seas, the tides, and the animals in the sea, and he who wields the trident can also break curses. But in order to find the artifact, Captain Jack must first create an alliance–one that makes him very uneasy and unsettled–with a brilliant astronomer and a bullish young man in the British Navy.
Two months before the release of  Dead Men Tell No Tales, director Joachim Rønning told fans that the fifth Pirates film was just the beginning of the final adventure for Captain Jack Sparrow and his scurvy crew, thus confirming that the franchise would not end with the fifth film. Six months later, producer Jerry Bruckheimer confirmed that yet another Pirates film was in development. Disney later announced that Craig Mazin and Ted Elliott would write the screenplay for the sixth Pirates of the Caribbean film, and in May 2020, Bruckheimer gave an update on the first draft of the Pirates 6 screenplay, saying that it would be finished soon.
Lies, Allegations, and a Defamation Trial Threaten the Franchise
On April 11, 2022, actor Johnny Depp and his ex-wife Amber Heard entered a Fairfax County, Virginia, courtroom to begin a  six-week-long defamation trial. Depp sued Heard for defamation related to an opinion editorial piece she published in 2018 in The Washington Post. Heard attempted to have the case thrown out of court, and when her efforts were unsuccessful, she asked to have the trial moved to California. When that request was denied, she countersued Depp, alleging he defamed her.
A jury  rendered its verdict on June 1, 2022, finding that Depp had proven each of the three allegations he lodged against Heard. But long before a jury could hear his case and determine whether the famous Hollywood actor was guilty or innocent, Disney rendered its own verdict, seemingly, and cut ties with Depp, solely based on Heard's lies and manipulation.
During the trial, Depp testified on the stand that his interest in  returning to the Pirates of the Caribbean franchise had been tainted by Disney's decision to abandon Depp before his case was heard and a verdict was rendered. But shortly after the conclusion of the trial, speculation about the possibility of a Depp-Sparrow reunion in Pirates 6 began to overtake Depp's fanbase. Even producer Jerry Bruckheimer said  he was interested in bringing Depp back to the franchise–something he has shared in multiple interviews with various entertainment media outlets.
More Back-and-Forth Talk Than the Black Pearl on the Rough Seas
Since Johnny Depp's trial ended, there has been more speculation and more talk about a possible Pirates 6 return than you can shake a spyglass at. Media outlets report Depp has washed his hand of the franchise one week, only to report the next week that Depp is entertaining the prospect of a swashbuckling return.
In April, there was even a post that claimed  Disney had finally apologized to Johnny Depp and offered him a contract for the next installment, but it was a traditional April Fool's "If Only" wish post. This week, however, news of Depp's return is once again making the rounds–but it's a story with a twist.
Depp Will Return to Disney's "Pirates" Franchise–on ONE Condition
This week,  FandomWire published an article detailing Johnny Depp's requirements before he considers revisiting a script as Captain Jack Sparrow. Make that one requirement, and it has nothing to do with his compensation.
During his defamation trial, the Cadillac Escalade that delivered Depp to the Fairfax County, Virginia, courtroom every day–and retrieved him every night–was nearly swarmed by adoring fans. People of every age lined the streets along the Cadillac's route to the courthouse, just hoping for that one magical glimpse of Captain Jack. But the fandom didn't stop there.
Fans were part of a lottery each morning–some arriving as early as 1:00 a.m. just for the opportunity to get a ticket to be able to watch Depp live and in person during that day's court proceedings. And those who did make it into the courtroom hung on every word from the actor's mouth and about the actor himself. Soon, a new kind of fandom was born– one that involved alpacas, Depp's precision delivery of rebuttal to a less-than-competent attorney for Amber Heard (who even resorted to  objecting to his own questioning), and $300 million.
The $300 million fandom grew from a line of questioning presented to Johnny Depp while he was on the stand and involved talk about his return to the Pirates of the Caribbean franchise. Ultimately, Depp said that he wouldn't return, even if he were offered  one million alpacas and $300 million as compensation.
In an online post, FandomWire makes it clear that Depp's only condition for returning to the scurvy franchise has nothing to do with the sum of $300 million. In fact, according to the post, Depp's condition for slipping back into Sparrow's frock coat, deep-cuffed boots, white shirt, wide black belt, long sleeveless vest, and waist-scarf for Disney has nothing to do with his monetary compensation whatsoever.
Per the post:
"The Rum Diary" actor's image was immensely affected due to the trial, [and] soon the actor also stated that he wouldn't work with the franchise again, as he felt betrayed. Fans were heartbroken, and it was impossible to imagine someone apart from Depp playing the role of Captain Jack Sparrow. However,  it looks like he's ready to return to the franchise if Disney meets his only condition, and no, it is not the rumored $300 million salary that circulated the internet once. An insider from the franchise came forward and stated that "anything is possible;  if it's the right project, [Depp] will do it."
So while Depp's one condition for returning to the franchise has nothing to do with financial compensation, it does appear that his return is contingent on Disney's willingness and ability to develop a Pirates project that will compensate Johnny Depp in other ways–emotionally and professionally–a project that just feels "right."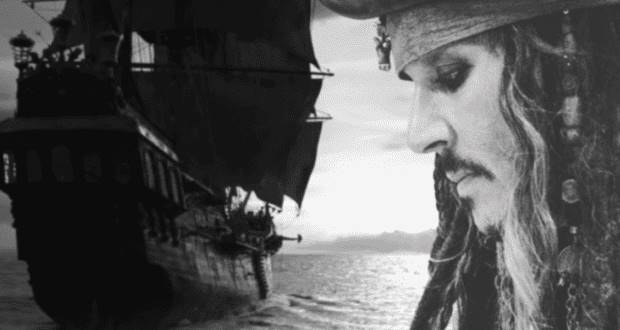 It remains to be seen what will actually play out within the Pirates of the Caribbean franchise. But while the end result is not yet known, it's safe to say that fans of the franchise will most likely not turn out at the box office, should Disney ultimately decide to exclude Captain Jack from the storyline–or call on another actor to play him.