4-Year-Old Invites Cops to Birthday Party, And They Respond with Heartwarming Surprise
A joyful and unexpected surprise recently swept through a small town in Scarborough, Maine, spreading a wave of cheer and positivity. It was an unusual day of duty for the local police officers, who got the heartwarming chance to swap their usual responsibilities for some pure, childlike joy. This unlikely but touching scene took place at 4-year-old Myles Roman's birthday party, which saw the local heroes in blue turning up as special guests, leaving Myles elated.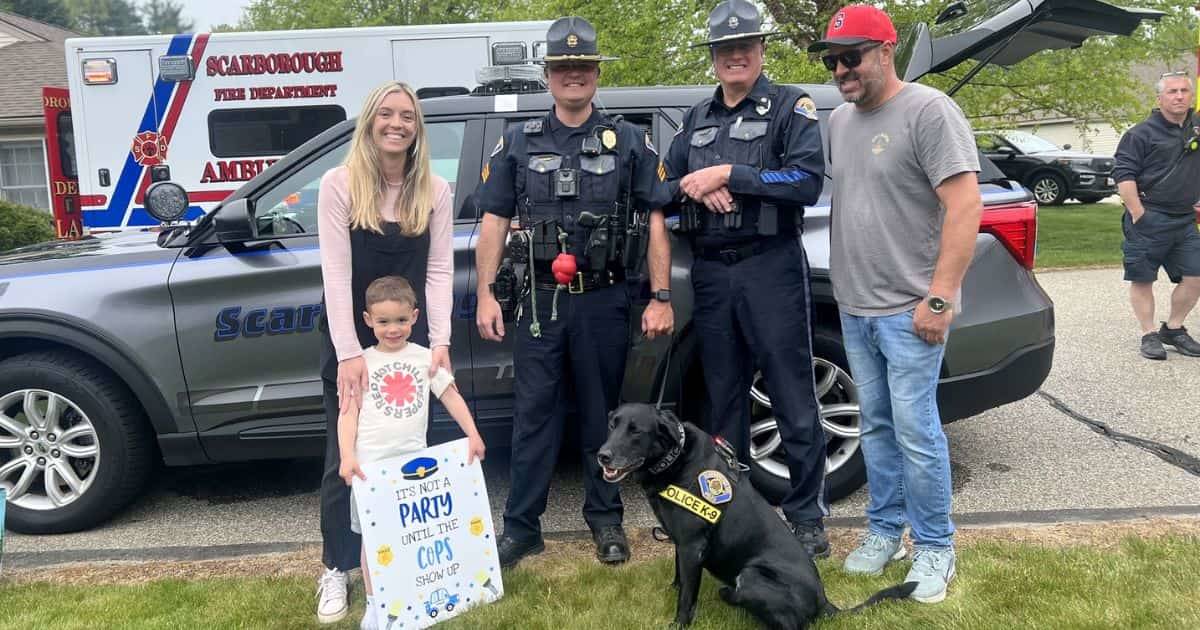 Myles Roman, a charismatic young boy with a passion for police work, invited the entirety of the Scarborough Police Department to his birthday party. This affection towards the men and women in uniform sparked after meeting the officers at a community event known as the National Night Out, which promotes police-community partnerships and neighborhood camaraderie.
It was no secret that Myles aspired to don the police uniform someday, an ambition fueled by his fascination with the heroic characters from the popular children's show "PAW Patrol". "Ever since, he's always saying he wants to be a police officer," Alyssa Roman, Myles' mother, told reporters.
Honoring their young fan's invite, three Scarborough Police Department officers, including K9 officer Tucker, attended Myles' birthday party. They were not the only ones to make an appearance; a firetruck and an ambulance joined the ensemble, adding to Myles' joy and astonishment.
In the spirit of the occasion, the officers did not come empty-handed. They brought birthday presents for Myles, which included "PAW Patrol" gifts from Sgt. Flynn, and Scarborough PD swag from Ofc. Greenleaf for Myles and his friends. The delight on Myles' face was a sight to behold, and everyone present savored the memorable occasion.
"Myles and his friends were very excited to see the police cars, fire trucks, ambulance and obviously K9 Tucker," the department expressed in a Facebook post, which also confirmed everyone "had a great time at the party and enjoyed hanging out with Myles and his friends and family!"
This heartwarming encounter was not only an unforgettable experience for Myles but also a much-needed breath of fresh air for the officers, a break from the more challenging aspects of their daily duties.
"I'm so glad that we live in such a great place," Alyssa Roman said, reflecting on the remarkable show of love from the community's first responders.
"Give to everyone what you owe them: If you owe taxes, pay taxes; if revenue, then revenue; if respect, then respect; if honor, then honor."