Bully Leaves 6-Year-Old Boy With Burns, Then Kind Strangers And Police Hold Parade Outside Hospital
This story of kindness will inspire you to think of others around you in a positive way. There are different types of people in this world some are good and some nasty, but we must continue to do good to all.
A 6-year-old boy who was brutally injured after being bullied by a boy received support in a big way from the community and the police who showed up at a rally to support him and now his goal in life is to become a police officer.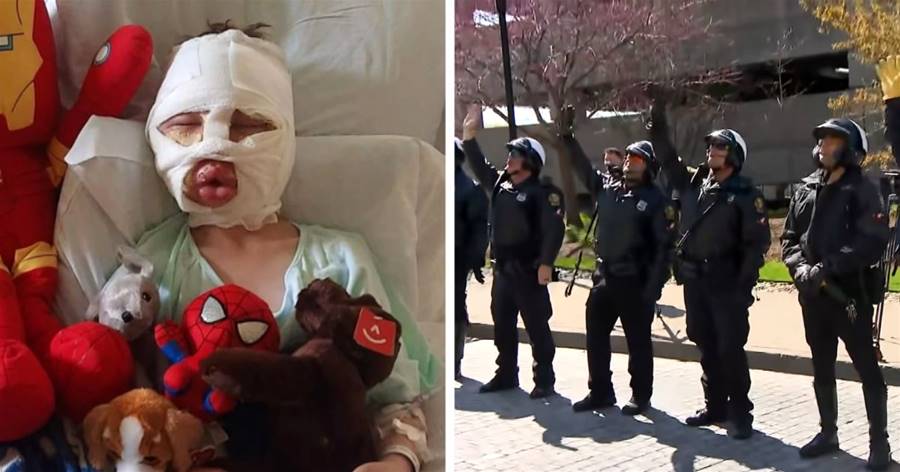 A video of the incident showed strangers and friends from the community supporting him through a parade of cars after he suffered burns when a bully threw a tennis ball on fire at him that sent him to hospital.
Dominick watched the parade from outside his window while covered in bandages but he has an indomitable spirit and was seen waving to all who had turned out to support him.
It just made Dominick so happy to see all the love and goodwill he had in the community as hundreds of cars drove past the hospital parking lot to show him how much they cared.
But the icing on the cake was the moment when Dominick Krankall received extra love from the police who turned up in their police cars and fire trucks to support and encourage the young dude. It was a great moment for Dominick who someday wants to join the police and serve the nation.
The reason why Dominick wants to join the police is that he wants bullying to end for everybody because he knows what it is to suffer from pain and injury due to it. He wants boys like the one who set his face on fire after lighting up a gas-covered tennis ball to be brought to justice.
That bully has harassed Dominick the whole of last year and he doesn't want people like that to try it on others but wants to put an end to it and be there for other people just the way they are supporting him during his bad times.
Even though the bully and his mom and dad claim that he is innocent, the community believes Dominick's claims and is raising funds through a GoFundMe page that has already raised $350,000 so that he can move to a better place along with his parents.
A nasty act like bullying against Dominick has sparked a chain of kindness for him and his family and we are praying for a full recovery for him and that they all receive peace and mercy from the Lord Jesus Christ.