US, Japanese troops train to fight in many domains during 10-day Orient Shield
U.S. soldiers from 5th Battalion, 20th Infantry Regiment fire an AT4 anti-tank weapon during Orient Shield at Kamifurano Training Area, Japan, Sept. 14, 2023. (Kalina Hyche/U.S. Army)
Thousands of American and Japanese soldiers have honed their multidomain skills across Japan this month, the commander of U.S. Army Pacific told reporters recently on the Japanese island of Hokkaido.
Orient Shield, which began Sept. 14 and ends Saturday, involves 1,200 U.S. soldiers training alongside 2,300 Japanese troops on Hokkaido, the northernmost of Japan's four main islands, and on its southern islands of Kyushu and Okinawa. The exercise gives soldiers practice in intelligence, information, cyber, electronic warfare and space operations.
"These exercises, and this training, and these rehearsals are critical to strengthening our alliance," Gen. Charles A. Flynn said Wednesday, according to the transcript of a press conference at Yausubetsu Training Area provided Thursday by U.S. Army Japan.
The 1st Multi-Domain Effects Battalion, based at Joint Base Lewis-McChord, Wash., which Flynn described as a "targeting brain," is taking part in the drills.
The battalion falls under U.S. Army Pacific's 1st Multi-Domain Task Force and is building up to include 500 soldiers next year. It includes sub-units individually focused on all the fields rehearsed during Orient Shield.
The battalion mission is to help U.S. forces enter and operate in strategic parts of the Indo-Pacific, its commander, Lt. Col. Joseph Mroszczyk, told Stars and Stripes at Camp Zama, headquarters of U.S. Army Japan southeast of Tokyo, on Saturday.
China's "anti-access/area denial" strategy uses ballistic and cruise missiles along with air and maritime defense to deter U.S. military operations in the region, according to the Virginia-based Missile Defense Advocacy Alliance.
"China's A2/AD is concentrated around Taiwan and the South China Sea, putting U.S. military forces — such as a Carrier Strike Group — and installations in the region within range of precision-guided cruise and ballistic missiles," the alliance states on its website.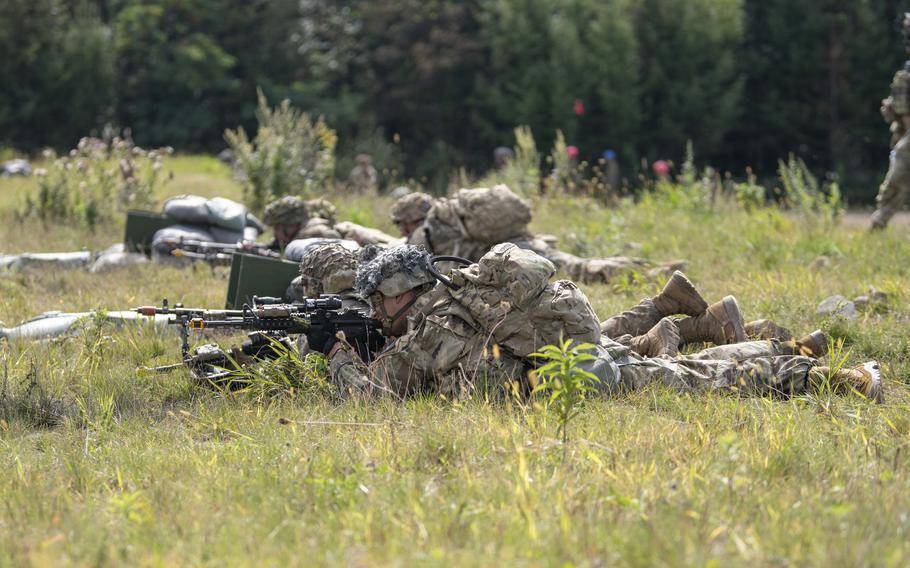 U.S. Army soldiers participate in the Orient Shield exercise at Kamifurano Training Area, Japan, Sept. 17, 2023. (Michael Flesch/U.S. Navy)
The Pentagon released photographs Wednesday of the Tennessee National Guard firing a High Mobility Artillery Missile System that day at Yausubetsu as part of Orient Shield.
Another Washington-based unit on Hokkaido — the 1st Stryker Brigade, 2nd Infantry Division — brought its armored vehicles equipped with mortars to Japan, unit commander Lt. Col. Tom Angstadt told Stars and Stripes by phone Monday.
"During the bilateral platoon live-fire the Japanese were firing 155 mm Howitzers and we were firing 120 mm and 60 mm mortars," he said.
Russia, with its own anti-access/area denial capabilities, according to the missile defense alliance, will view the Hokkaido training as a threat, James Brown, an international affairs expert at Temple University's Japan campus, said in an email Wednesday.
"The Russian government has recently been attempting to portray Japan as being back on the path to militarism and a potential threat to Russia," he said. "I'm not sure it is helpful for Japan and the US to provide fuel for this false narrative."