Army specialist dies after vehicle strikes utility pole on Okinawa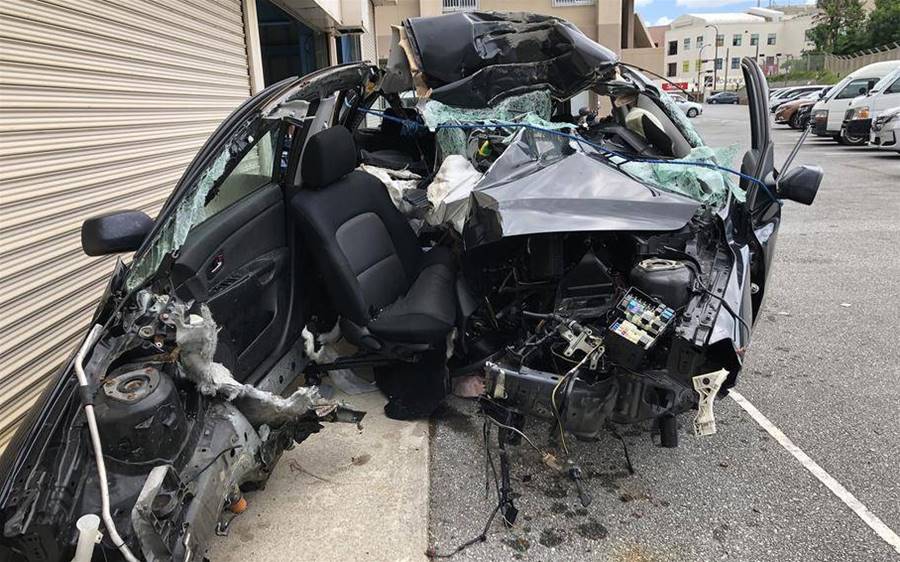 A U.S. soldier assigned to Kadena Air Base was killed Sunday, Sept. 24, 2023, when his black Mazda Axela, seen here the next day at Okinawa Police Station, crossed the median and struck a concrete utility pole. (Mari Higa/Stars and Stripes)
CAMP FOSTER, Okinawa — A soldier assigned to an air defense unit at Kadena Air Base died Sunday morning when his car crashed just south of Aeon Mall Okinawa Rycom, according to the Army and Japanese police.
Spc. Izaiah Sneed, 27, a petroleum supply specialist with 1st Battalion, 1st Air Defense Artillery, was southbound on Route 330 at 6:07 a.m. when his black Mazda Axela crossed the median and struck a concrete utility pole in front of a Haebaru gas station, an Okinawa prefectural police spokesman told Stars and Stripes by phone Monday.
A gas station employee told police Sneed was traveling "very fast" at the time; police are investigating, the spokesman said.
Sneed, a Maryland native, was pronounced dead at 7:01 a.m. at a central Okinawa hospital, according to police.
"This young man demonstrated the courage to join the U.S. Army and serve in our air defense brigade — overseas — as a brother in arms," Col. Neal Lape, commander of the 38th Air Defense Artillery Brigade, wrote in a statement Monday. "We will carry on our mission in Izaiah's memory."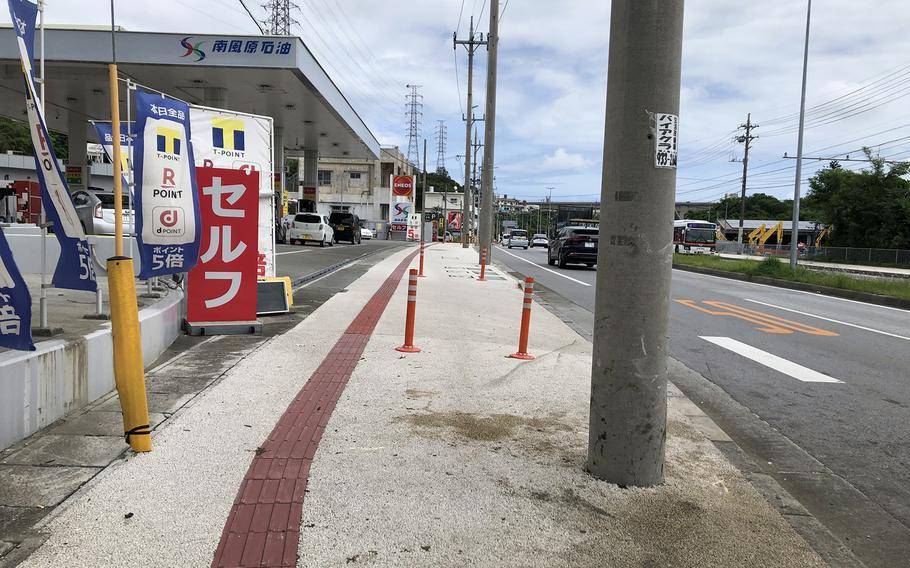 A soldier assigned to 1st Battalion, 1st Air Defense Artillery was killed Sunday, Sept. 24, 2023, after his car struck this utility pole in Kitanakagusuku village, Okinawa. (Mari Higa/Stars and Stripes)
Sneed's car crossed to the opposite side of the street just south of the Aeon Mall intersection, four miles southeast of Kadena, and struck the pole, the spokesman said. Sneed was the car's lone occupant.
Some government officials in Japan speak to the media on condition of anonymity as a requirement of their employment.
Police are calculating how fast Sneed was traveling and whether drugs or alcohol were a factor in the crash, the spokesman said.
Sneed joined the Army in March 2017 and arrived on Okinawa two years ago, brigade spokesman Maj. Trevor Wild said by email Monday.