Army delays plan to improve dining facilities, looks to expand access to commissaries for now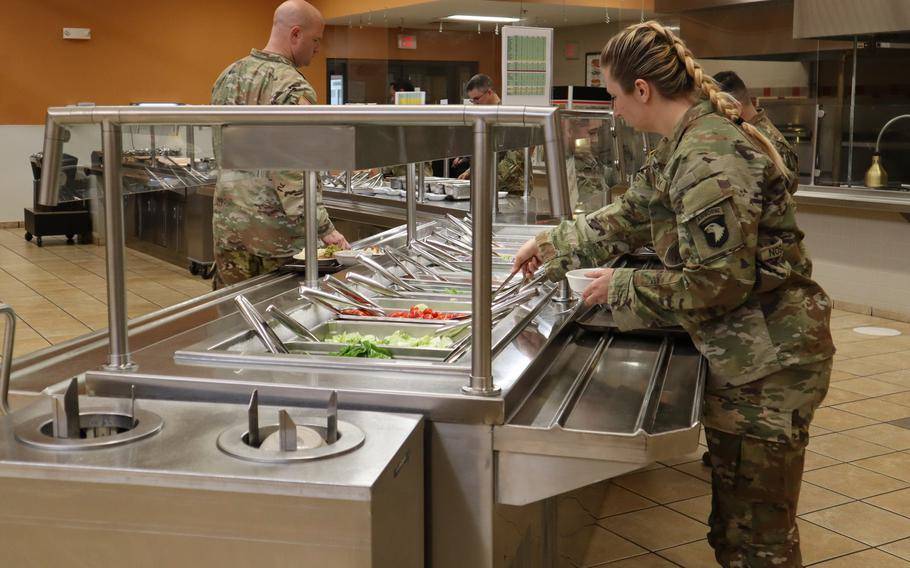 A soldier makes a salad at a dining facility at Fort Knox, Ky, on April 12, 2023. (U.S. Army)
AUSTIN, Texas – The Army has delayed a program to solicit restaurant partners to help run base dining facilities and instead plans to get soldiers greater access to food already available on posts, service officials said.
The new plan will include allowing soldiers to spend money in commissaries that was earmarked for dining facilities, according to leaders with Army Materiel Command.
"We took a step back," said Lt. Gen. Chris Mohan, deputy commander of the command, which oversees resources and facilities on bases.
Earlier this year, the Army attempted to find restaurant partners to contract with the service in a similar way that some do with large college campuses. But service leaders later realized their plan would require Congress to change some laws.
"When we started peeling this one back, I was shocked at the amount of regulatory and congressional oversight that we get that impacts the way that we do operations," Mohan said.
Despite stalling the program for now, the Army still wants to pursue it, he said.
Restaurant partnerships have the support of top Army leaders, including Army Secretary Christine Wormuth, who said the move would make dining facilities more attractive and accessible to soldiers.
Mohan, who has joined forces with two other generals at the Army headquarters and the Combat Arms Support Command, said they are now working with the Defense Department to make legislative proposals to change laws and give the Army more flexibility in feeding soldiers. It's too early in the process to identify specific recommendations, he said.
Meanwhile, the three generals are working other aspects of feeding soldiers that can be done within the service, such as creating a program that allows soldiers to buy healthy foods in commissaries using their dining facility meal entitlement, getting contractors into dining facilities during times when soldiers are away and improving transportation at large installations to help soldiers without vehicles get around.
Junior soldiers living in the barracks do not receive the roughly $450 a month of subsistence allowance, but instead get an entitlement of three meals a day in the dining facility. Any of the entitlement not used in the dining facility is lost.
The Army is looking for a management system that will allow soldiers to use that entitlement at commissaries to buy nutritionally approved options, Mohan said. He envisions it functioning similar to government-funded nutrition programs, which provide users a card they can swipe at the grocery store register and have approved items automatically deducted from the total.
"We are actively engaging with both [the Defense Commissary Agency] and [the Army and Air Force Exchange Service] and a number of other partners in order to make immediate enhancements to the way that we're doing business across our installations," Mohan said.
While that work continues, Army Materiel Command sent a team of observers this month to Fort Cavazos to help implement best practices and find room for improvement. The Texas base will be first in line for some of these changes after a challenging summer.
In July, two brigade combat teams and various elements of other units were away from the post, which caused several dining facilities to close, said Col. Chad Foster, chief of staff for III Corps and Fort Cavazos. Because the base is so large, this left those soldiers without vehicles little access to meals.
He conceded they did not recognize the issue soon enough and said base leaders asked for the observers to come out and offer ideas for improvement.
The base centralized its feeding operations under a working group that meets regularly to spot gaps in food service, Foster said. If a unit is deploying, leaders can reallocate personnel and resources to either keep a facility open or open another one that's within a comparable distance.
They've already identified an upcoming time window where multiple dining facilities would typically have to close because of training requirements, and Foster said they will use contracted workers to fill the gaps.
This group also releases and advertises hours of operation 30 days in advance — responding to another complaint from soldiers.
Lt. Gen. Omar Jones, commander of Army Installation Management Command, said earlier this week during the annual Association of U.S. Army conference that a new Army app for each post, which is in development, will include dining facility hours. Soldiers can instantly submit feedback within the app whenever the information is wrong, though he did not specify who is tracking that feedback.
"You should be able to know before you leave your house, your car, your barracks room, whatever, you know what are the hours at the fitness center, what are the hours at the [dining facility]," Jones said. "It should be there at your fingertips, accurate and reliable."
To make certain that soldiers can get to the dining facilities that are open, Fort Cavazos has signed an agreement with the Hill Country Transit District to operate new routes on base for its bus system known as The HOP.
Soldiers will start to see a rudimentary route in November with expansion moving quickly, Foster said. There will be a yet-to-be-determined fare associated with the bus system to help offset the cost.
Foster said 30% to 40% of soldiers at newcomers' briefings each week at Fort Cavazos often don't have a vehicle or a driver's license. There are also many married soldiers who share a vehicle with their spouse.
"We're really looking forward to having this in place because it'll help us with the larger problem of feeding as well as so many other things about quality-of-life on the installation," Foster said. "I know it's going to make a difference."
As the Army looks to innovate its dining facilities, Mohan said it's important not to stifle experimentation already happening in some locations. Dining facilities at Fort Liberty in North Carolina and Baumholder in Germany are testing apps that allow soldiers to order to-go meals, and others are testing kiosks with premade, grab-and-go meals.
"There's a lot of bright spots out there. We just got to take a step back and get them all under one under one roof," he said.