Army program aims to make it easier for soldiers to obtain free maternity uniforms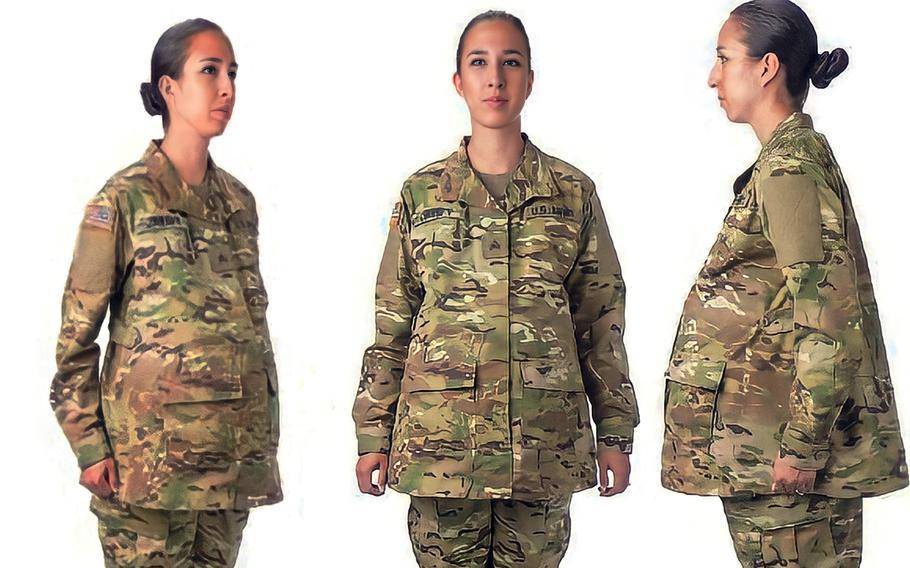 Commonly called "Rent the Camo," the program provides soldiers three operational camouflage pattern maternity uniforms, five maternity T-shirts and other items. (U.S. Army)
The Army has expanded a pilot program in the continental United States that streamlines the process of obtaining free maternity uniforms.
Commonly called "Rent the Camo," the program provides soldiers — both enlisted and officers — three operational camouflage pattern maternity uniforms, five maternity T-shirts and other items, the Army said in a statement Sept. 21. The uniforms are delivered directly to the soldier and can be kept for the duration of her pregnancy.
The initiative is designed to save soldiers from making multiple trips and in some cases spending "hundreds of dollars" on uniform costs, the statement said.
"This program is going to help give [soldiers] the one-stop shop they need," Maj. Irma Richards, an Army logistics officer, said in the statement. "By streamlining the process to where they only have one person to deal with, which is the [Maternity Uniform Pilot Program] representative, that eliminates the back and forth a female soldier has going to several locations to obtain her uniforms."
The Army program began with active-duty and Guard units in October 2022, two years after Congress passed the Rent the Camo: Access to Maternity Wear Act.
The act mandates that each service branch create an office dedicated to providing free maternity uniforms on a temporary basis. The Defense Logistics Agency was tasked with maintaining a stock of uniforms and ensuring they were not treated with permethrin, an insecticide used to ward off mosquitoes, ticks and lice.
The program was expanded in May to include all units in the continental U.S., the Army statement said. It is not yet available overseas.
Both enlisted and officers have traditionally been issued free utility uniforms, according to a DOD maternity uniform chart from 2016.
However, prior to the pilot, expectant soldiers were required to go through myriad steps to get maternity uniforms. After receiving doctor confirmation and a signed memorandum from their command, a soldier then had to make an appointment at the closest issuing facility, which could mean travel from a remote location.
There are approximately 16,000 soldiers a year who need maternity uniform items, the Army said in a 2021 statement.
The process begins when soldiers report a pregnancy to their command, the Sept. 21 statement said. If they are referred to the pilot program, they work with their installation representative to order uniforms directly online.
The uniforms can be kept for 15 months. Developmental items such as maternity physical fitness uniforms, the tan maternity T-shirt, and a nursing T-shirt are available in limited quantities.
More than 200 soldiers have participated so far, the statement said. The program runs until the Army reaches 1,200 participants or fiscal year 2025.
At the end of the pilot program, the information gathered from participants will be used to make recommendations "to determine the best way forward," the statement said.