Army soldier should've returned to Earth months ago; instead, he broke a NASA record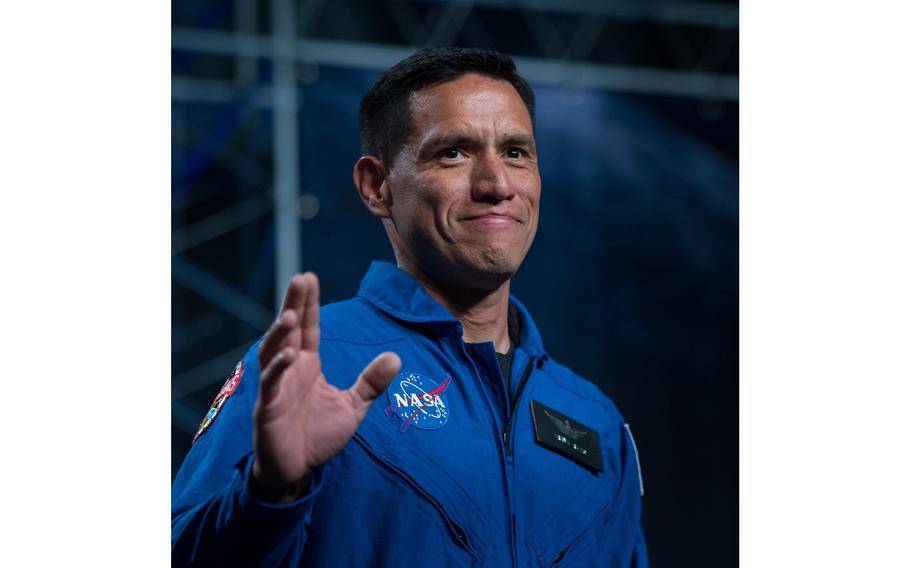 NASA astronaut candidate Francisco Rubio waves as he is introduced as one of 12 new astronaut candidates, Wednesday, June 7, 2017, during an event at NASA's Johnson Space Center in Houston, Texas. (U.S. Army)
The reality facing American astronaut and Army Lt. Col. Frank Rubio dawned on him slowly, he said, as a tangle of unexpected hiccups unfolded hundreds of miles above Earth on the International Space Station.
First, a Soyuz capsule — the Russian spacecraft that had brought Rubio to the ISS last September — sprung a coolant leak in mid-December, jeopardizing his ride home. The discovery of a similar leak in another spacecraft attached to the ISS slowed plans to send Rubio and his crewmates a replacement in February.
Rubio and his two Russian crewmates, Sergey Prokopyev and Dmitri Petelin, were never in grave danger aboard the ISS as NASA and Russian space agency Roscosmos scrambled to secure their journey home. But the incident disrupted the timeline of their six-month-long mission. Rubio, who launched into space with Prokopyev and Petelin on his first spaceflight in September 2022, would spend twice the amount of time he'd planned to in orbit. He wouldn't be able to return to his Miami home for a whole year.
"When it finally became real that it was going to require me to stay for a full year, [it] was difficult," Rubio, 47, said from the ISS in a Tuesday news conference.
Rubio, floating in zero gravity inside an ISS compartment, reflected on his unexpected year in space as the end of his mission finally nears. He is set to return to Earth on Sept. 27, but not before entering NASA's history books. Last week, Rubio broke NASA's single spaceflight record for continuous days spent in space by an American, the agency announced. NASA's previous record, set by astronaut Mark Vande Hei between 2021 and 2022, was 355 days. Rubio will have spent 371 by the time he returns home.
Would he have signed up for such an extended stay at the ISS from the outset?
"Obviously if, if they had asked me upfront before you start training ... I probably would have declined," Rubio said, explaining that he wouldn't have wanted to miss important events with his family.
"I just would have had to say, 'Thank you, but no thank you,' " Rubio said.
But Rubio added that he was committed to the mission — and resolving any mishaps along the way — once training for his spaceflight began.
"Having the International Space Station going for 23 years requires a lot of individual and family sacrifices," Rubio said. "But sometimes that's what you have to do."
While aboard the ISS, Rubio participated in several research projects as NASA prepares for future space missions, the agency said. He grew tomatoes outside of soil to investigate crop production in space, serviced a device for 3D-printed knee cartilage tissue in zero gravity and donned a spacesuit to install new solar arrays on the ISS' exterior.
Rubio became a research subject himself as well, as NASA scientists used him and other ISS crewmates to test whether smaller exercise devices could adequately replace the ISS' treadmills on future missions to the moon and Mars.
All those projects, however, were overshadowed a few months into the mission. NASA and Roscosmos officials announced in January that the Soyuz intended to take Rubio, Prokopyev and Petelin home had a coolant leak, probably after being damaged in a micrometeoroid strike.
The Soyuz was deemed unfit to serve as a return vehicle. A replacement craft was sent to the station in February. Ultimately, Rubio's return date was set for September, confirming that he'd break a record — and spend an entire year far away from home.
"It's been a mixed emotional roller coaster," Rubio said Tuesday.
Rubio said he was honored to break the record but added that his stint was a team effort. He praised NASA and the other astronauts who'd accompanied him on the ISS, shrugging off a question about celebrating the end of his mission with a commemorative patch.
"If we do make a patch, they better make a whole lot of them," Rubio said.
When Rubio returns to Earth, his body will need to readjust to bearing its own weight after over a year in zero gravity, he said. It might take him months to feel normal. But Rubio has plenty to look forward to — he said the first thing he will do when he returns home is hug his wife and kids. Then he plans to sit in his backyard in Miami to watch the trees and revel in something else he could never enjoy in over a year spent in space: silence.
"You know, up here we kind of have the constant hum of machinery that's keeping us alive," Rubio said. "It's very important, but it is just a constant hum that you probably hear in the background. And so I'm looking forward to just being outside and enjoying the peace and quiet."