Senate confirms Army chief of staff and Marine Corps commandant, bypassing Tuberville promotion block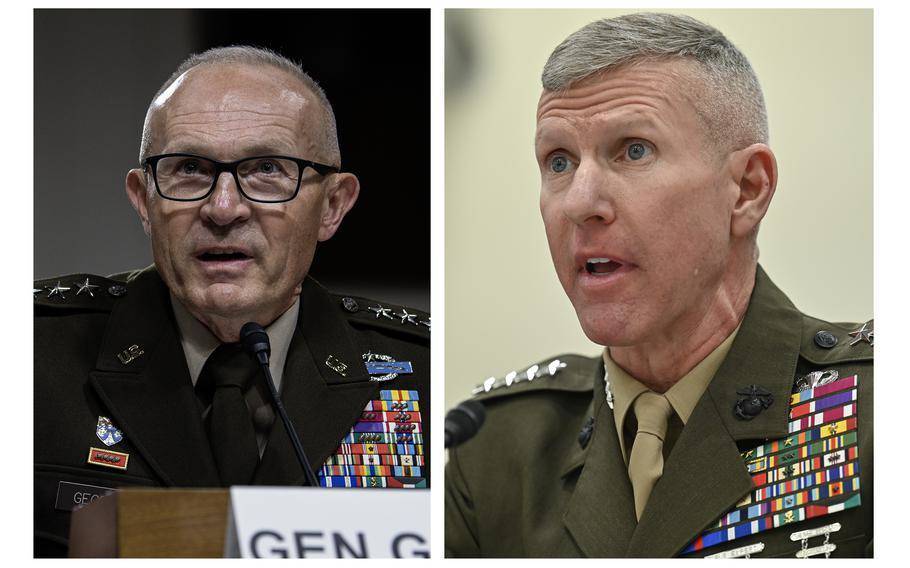 At left, Army Gen. Randy George in July 2023 at a Senate Armed Services Committee hearing. At right, Marine Corps Gen. Eric Smith in April 2023 at a House Armed Services Committee. (Carlos Bongioanni/S&S, left; Eric Dietrich/U.S. Air Force)
WASHINGTON — The Senate voted Thursday to confirm the Army chief of staff and the commandant of the Marine Corps, filling key positions on the Joint Chiefs of Staff as Sen. Tommy Tuberville maintains his hold on more than 300 other military nominees.
Army Gen. Randy George was approved in a 96-1 vote, with Sen. Mike Lee, R-Utah, objecting. George had been simultaneously serving as vice chief of staff of the Army, a position that he has held since 2022, as well as the acting chief of staff since the August retirement of Gen. James McConville.
"I have full confidence that he will continue to modernize the Army and maintain our highly trained and lethal force to fight and win our nation's wars," said Sen. Joni Ernst, R-Iowa. "Gen. George is a hardworking public servant who knows the needs of our soldiers and their families."
Marine Gen. Eric Smith was unanimously approved in a 96-0 vote. He also performed dual roles as assistant commandant of the Marine Corps and acting commandant following the retirement of Gen. David Berger in July.
George and Smith had been prevented from officially ascending to their services' top posts by Tuberville's monthslong objection to a routine Senate process for voting on general and flag officers in large batches.
Sen. Tommy Tuberville, R-Ala., at right, walks toward the Senate chamber on Thursday, Sept. 21, 2023. (Carlos Bongioanni/Stars and Stripes)
Tuberville, R-Ala., said Wednesday that his hold will remain in place as long as the Pentagon continues to give time off and travel reimbursement to service members who need to cross state lines to obtain an abortion or other reproductive health services.
The forced Senate Majority Leader Chuck Schumer, D-N.Y., on Wednesday to put the , starting with . Brown was confirmed as the next chairman of the Joint Chiefs of Staff on Wednesday night in an 83-11 vote with just 10 days left before Army Gen. Mark Milley, the current chairman, retires.
Schumer reversed his opposition to confirming individual nominees after Tuberville made moves this week to force a floor vote on Smith. Democrats had argued it was up to Republicans to pressure Tuberville to drop his hold and said voting on top-level nominees individually, as Tuberville and other Republicans had demanded, would politicize a typically uncontroversial process.
Tuberville voted against Brown's confirmation but supported the appointment of George and Smith.
"We are disturbed … by Republicans' interest in voting exclusively on a few select officers while hundreds of other officers and their families are punished," said Sen. Jack Reed, D-R.I., chairman of the Senate Armed Services Committee. "Democrats pursued every opportunity we could before taking this route, and I hope Republicans understand the terrible message they are sending to the force."
It would take the Senate 103 days to confirm each of the 319 officers affected by Tuberville's hold, according to Sen. Amy Klobuchar, D-Minn.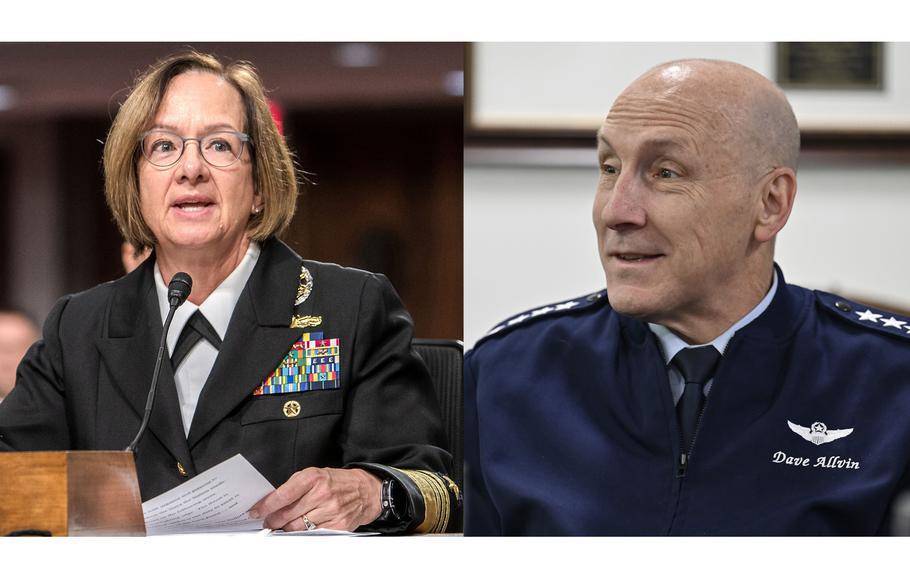 Navy Adm. Lisa Franchetti and Air Force Gen. David Allvin. (Carlos Bongioanni/S&S; Eric Dietrich/U.S. Air Force)
Two additional picks for the Joint Chiefs are also caught up in the stalemate. is nominated to become the first female chief of naval operations and the first woman on the Joint Chiefs, and is awaiting confirmation as Air Force chief of staff. Franchetti has been serving in her nominated role in an acting capacity since August while also serving as vice chief of naval operations.
George, a veteran of the Gulf War and the wars in Afghanistan and Iraq, is taking the Army's highest post after a decorated warfighting career. As a brigadier general in 2015, he helped spearhead the Army's response to Russia's first invasion of Ukraine by leading a new mission command overseeing soldiers on NATO's eastern flank.
He previously worked as the senior military assistant to Defense Secretary Lloyd Austin and told senators during his confirmation hearing in July that he plans to promote the value of service to help the Army address its ongoing recruitment struggles.
Smith criticized Tuberville's hold during his confirmation hearing in June, saying it "certainly compromises our ability to be most ready."
"Our readiness is national security," he said.
Smith has served in the Marine Corps for 36 years and deployed to Afghanistan and Iraq, where he was wounded in an ambush. He attempted to crack down on hazing and sexual assault when overseeing Marines in California and said in an August message to service members that he will continue to work to eliminate issues that cause division.
"I owe you a command climate where honest mistakes can be made, where Marines are treated like professionals, and where discipline is central to who we are," Smith wrote.