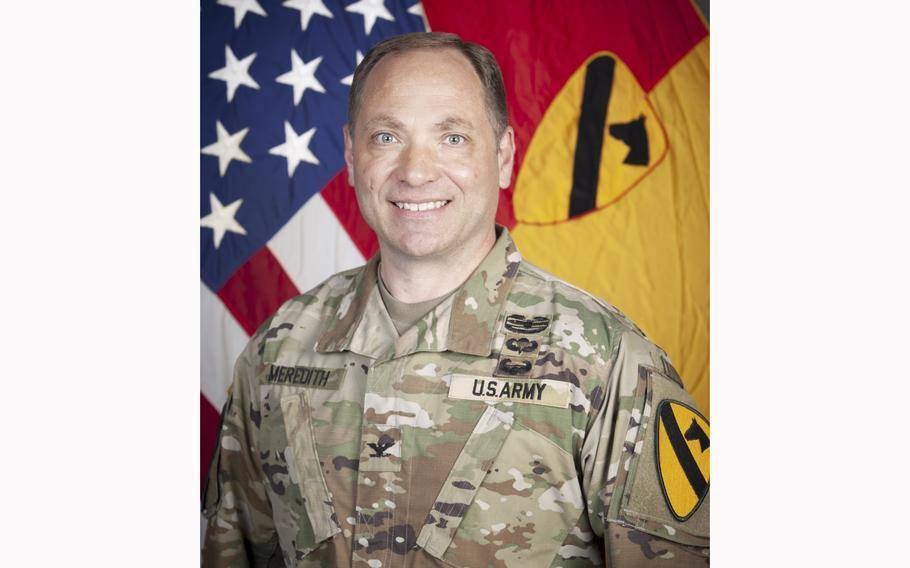 Army Col. Jon Meredith, who is assigned to Fort Cavazos, Texas, will face a court-martial on two counts of conduct unbecoming of an officer, according to Army officials. (U.S. Army)
AUSTIN, Texas — The court-martial of a former brigade commander at Fort Cavazos will not begin next week as planned after the judge in the case granted more time to the colonel's attorneys to prepare following the dismissal of a sexual misconduct charge.
Col. Jon Meredith faces two counts of conduct unbecoming of an officer that were previously connected to the charge of abusive sexual contact. However, Lt. Gen. Sean Bernabe, commander of III Corps and Fort Cavazos, on Sept. 11 .
"We will use the time granted by the continuance to continue preparations for a trial that shouldn't even be happening," said Sherry Bunn, Meredith's defense attorney and a former Army lawyer. "In the wake of the government's dismissal of the abusive sexual contact charge — one that shouldn't have been referred in the first place — I'm questioning the need for a general court-martial for a charge that should be addressed at a more appropriate level of disposition."
A new trial date for Meredith will be set two to three months from the original start date of Monday, said Lt. Col. Tania Donovan, spokeswoman for III Corps, which is headquartered at the central Texas Army base.
The military judge presiding over the trial is Col. Maureen Kohn of the 5th Judicial Circuit, according to online court records.
Meredith, 47, is accused of going to the home of the victim, who is the civilian wife of an Army officer, on July 23, 2022, according to a charge sheet detailing the allegations against the colonel. Meredith knew the woman's husband was away at a field training exercise and groped and kissed her, according to the document. All names apart from Meredith's are redacted from the document.
At the time of the incident, Meredith was commander of the 1st Brigade Combat Team in the 1st Cavalry Division. He was and arraigned in military court in May.