"There Wasn't a Dry Eye in the House": WWII Bracelet Found in France Returned to North Carolina Family
Eight years ago, Kevin Grenot was exploring a wooded section of his small town in northeastern France with a metal detector when he came across a metal bracelet buried beneath a foot of dirt.
He pocketed his find and began the trip back home. At one point he turned around to look back at the spot where he found the bracelet and, despite it not having rained that day, a vibrant rainbow appeared.
The bracelet was clearly special. It was inscribed with the name "M.G. Phillips" and what appeared to be a service number, and though broken at the chain, it was in relatively good condition. Grenot reckoned the bracelet had been there for about 70 years, and, after some research, determined that it was an American army ID bracelet, likely from WWII.
On and off for the next two years, Grenot searched for someone who could help him locate a descendent of the mysterious M.G. Phillips. He contacted the American embassy, the French embassy, various military groups, and hundreds of people on social media, but nobody could help him.
The bracelet sat in a jewelry box until this year, when Grenot experienced what he calls a "flash." He became determined to get the bracelet back to its family.
This time, however, luck was on his side. In January he made contact with professional genealogist Megan Heyl in Holland, Michigan.
"I said, I'll give it a shot," Heyl recalled to .
She worked day and night for nearly a week and was able to identify the owner of the bracelet as Marshall Glenn Phillips, who fought alongside the French against the Germans during WWII. He survived the war and passed away in 1985. His only living son, 80-year-old Linvill Phillips, was living in Pilot Mountain, North Carolina. Heyl called him on the phone.
"I couldn't believe it at first," Phillips told . "I was just shocked, and I thought, 'They got the wrong person.' She said, 'No, we've checked this out. We know who we've got!'"
Talking with Phillips, Heyl learned just how much the discovery of the bracelet means. He and his brother, who passed away in 2015, had stored every item belonging to their late father in a trunk, which was lost in a house fire. The bracelet, salvaged from rural France, was the only known item from his dad in existence.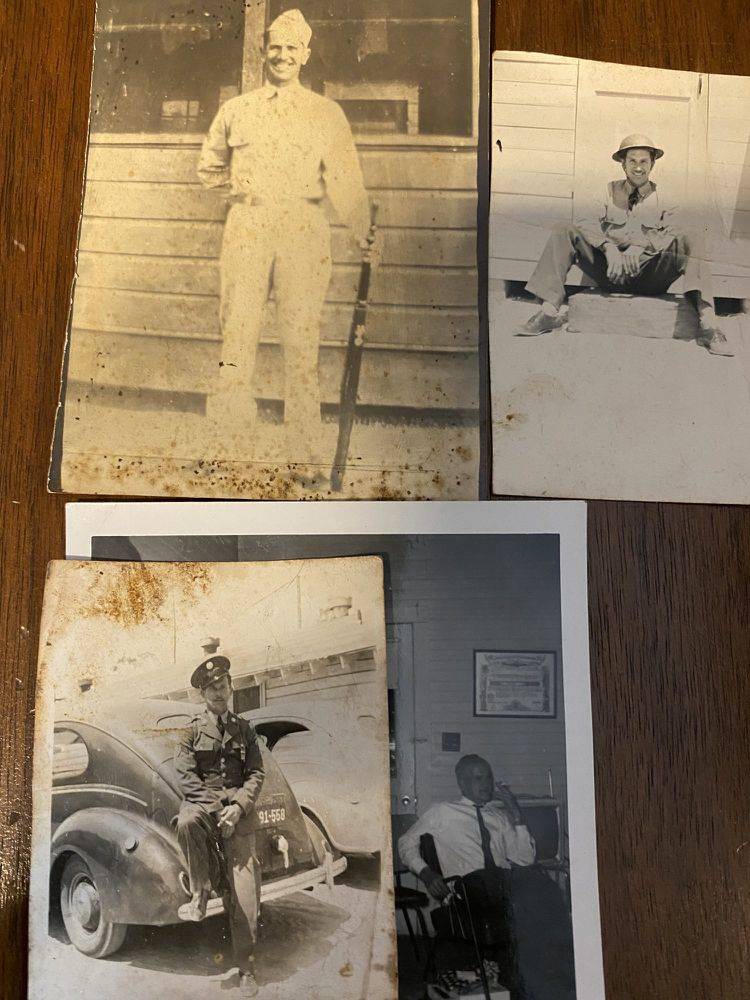 With the bracelet's family identified, Grenot started making plans to fly from France to North Carolina to deliver the item personally.
"Then ," explained Heyl.
With international travel out of the question, in March, the decision was made for Grenot to ship the bracelet to Heyl.
"It sat in quarantine in France for almost three months," she said. "It got shipped to New York. It sat in customs for almost two months."
When the bracelet finally made it to Heyl in Michigan in late August, the box was in tatters. The fact that it made it to her at all is nothing short of miraculous.
"All I had to do was turn it on its side and shake it real good and it fell out," Heyl recalled.
Within a few days, she and her husband were in the car, making the 700-mile journey to deliver the bracelet to Phillips, in person.
The box sat on Heyl's lap for the entirety of the trip.
"My husband, dad, and grandfather were all military. When there is a fallen soldier, that soldier is escorted home," she explains. "This is the only piece of him this family has left. It needed to be escorted home."
"People ask why we didn't just drop it in the mail," Heyl continued, "but far too much emotion and passion, went into trying to do this."
Finally, after 80 years, the bracelet was home. While he couldn't be there to deliver it in person, Grenot sent Heyl with a video message for Phillips.
"You know, it took eight years for this artifact to find American soil but eight years in terms of history, it's nothing," Grenot said.
Heyl describes the moment the bracelet was returned as "emotional and crazy," noting that there "wasn't a dry eye in the house."
"I can't believe that anybody went to the trouble that they've gone to, to get that thing to me," Phillips told . "And, you know, I just can't believe it. When I think about it, it's like a dream."