Charges dropped against Fort Cavazos colonel facing court-martial over sexual allegations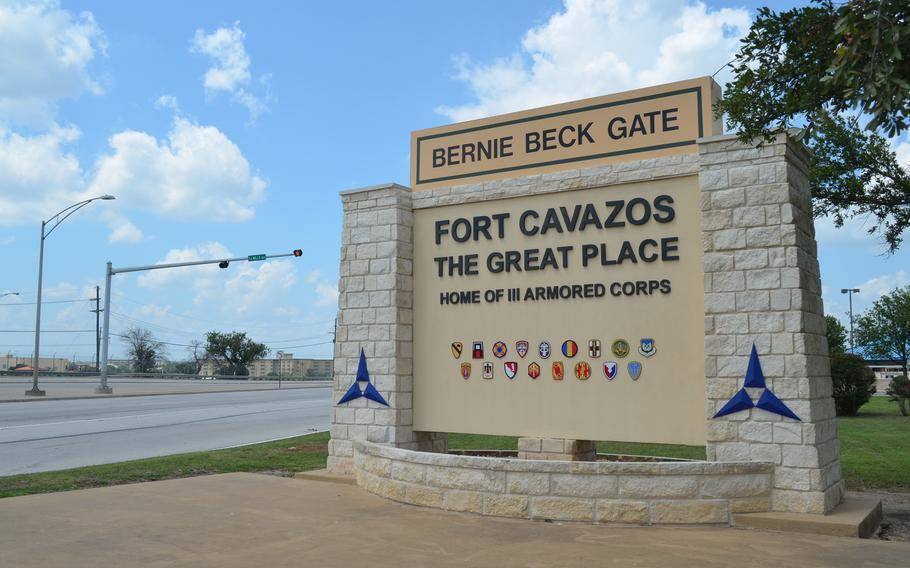 Entrance to Fort Cavazos, Texas, which has been under increased scrutiny since 2020 when Spc. Vanessa Guillen was killed on the base by a fellow soldier. Her family said she was sexually assaulted prior to her death, which led to several investigations reviewing the command climate and culture of the base, as well as officials handling of sexual-assault allegations and the professionalism of criminal investigators. (Rose L. Thayer)
AUSTIN, Texas — A former Fort Cavazos brigade commander accused of inappropriately touching and kissing the spouse of a fellow officer had the criminal charges against him dismissed with the Army citing "newly discovered evidence."
Col. Jon Meredith, 47, faced a court-martial on two counts of conduct unbecoming of an officer for his actions on July 23, 2022, while he was commander of the 1st Brigade Combat Team of the 1st Cavalry Division. A previous charge of abusive sexual contact was dismissed last month.
Instead, his punishment will move into administrative action, said Lt. Col. Tania Donovan, spokeswoman for Fort Cavazos and III Corps, which is headquartered at the Texas base.
Lt. Gen. Sean Bernabe, commander of III Corps and Fort Cavazos, made the decision based on the new evidence and in consultation with the Office of Special Trial Counsel, Donovan said.
"It was based on an assessment of multiple factors which guide every commander in deciding the appropriate means of addressing allegations of misconduct. Among these factors are the impact and appropriateness of alternative disposition options, including nonjudicial punishment or administrative action," Donovan said in a statement.
Sherry Bunn, Meredith's attorney, said the decision to dismiss was based on evidence obtained during the law enforcement investigation into Meredith's wife, Col. Ann Meredith, who was fired in March from her command of the 89th Military Police Brigade at Fort Cavazos.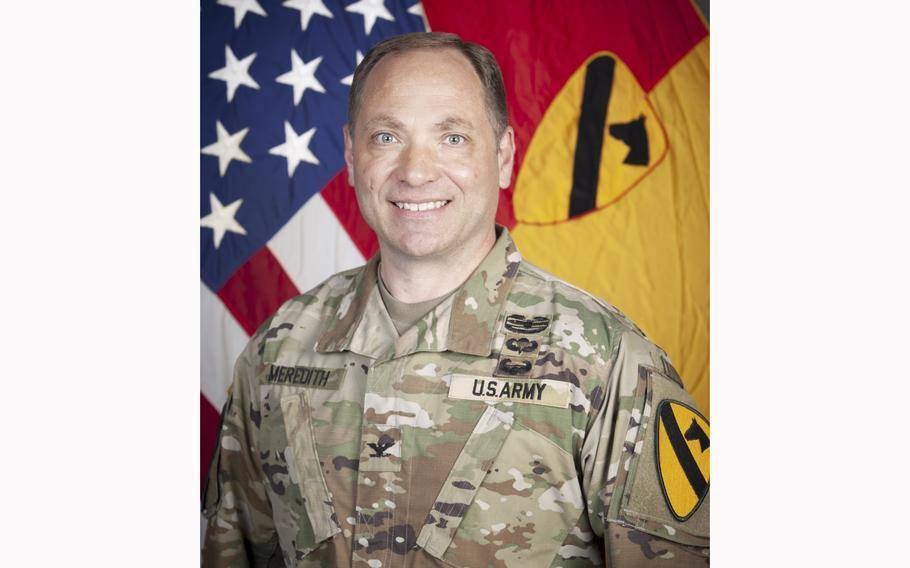 Col. Jon Meredith, a former Fort Cavazos brigade commander accused of inappropriately touching and kissing the spouse of a fellow officer, had criminal charges against him dismissed, according to Army officials. (U.S. Army)
Ann Meredith was fired because she sent a text message that was considered interfering with the investigation into her husband, according to a post to her personal Facebook page. She was disciplined through administrative action, according to Fort Cavazos.
The evidence shows Jon Meredith's "accuser and her husband, a lieutenant colonel, colluded to create a false sexual-assault allegation against Meredith because the accuser's husband was upset about the rater comments on his officer evaluation report," Bunn said. The evidence was discovered in the couple's cell phone messages from October 2022, she said.
Bunn said she only recently gained access to the evidence from Ann Meredith's file, but she said the Army has had it for the past year.
Donovan said the evidence was first disclosed to Army prosecutors on Sept. 28. Because the investigations were separate, prosecutors were not aware that evidence from Ann Meredith's file contained information relevant to Jon Meredith's court-martial, she said.
"We hope the Army will investigate the matter underlying the false allegations," Bunn said. "…This case never should have been a court-martial. The original investigation and decisions to take this case to a court-martial were a rush to judgment to address the recent public relation struggles at Fort Cavazos, and not justice."
Fort Cavazos, formerly Fort Hood, has been under increased scrutiny since 2020 when Spc. Vanessa Guillen was killed on the base by a fellow soldier. Her family said she was sexually assaulted prior to her death, which led to several investigations reviewing the command climate and culture of the base, as well as officials handling of sexual-assault allegations and the professionalism of criminal investigators.
An independent review commission issued 70 recommendations to improve the base's investigations, court system, sexual assault and harassment prevention program and trust in base leaders. The Army has said it would implement many of the recommendations across the service.