Synthetic cannabis raids net 17 US soldiers at 2 bases in South Korea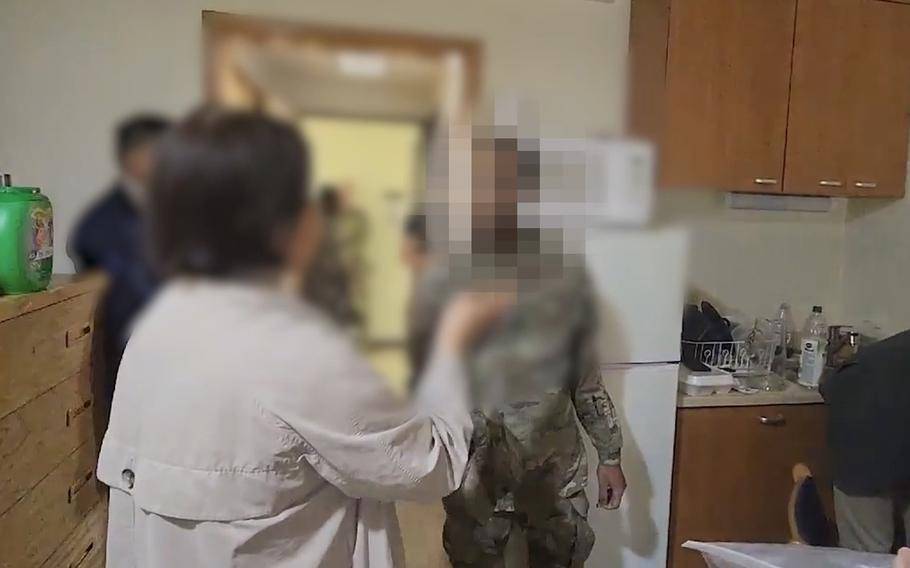 This undated image, censored by police, shows a U.S. soldier being questioned during a synthetic cannabis raid inside a barracks at Camp Casey, South Korea. (Gyeonggi Provincial Police Office)
CAMP HUMPHREYS, South Korea — Seventeen American soldiers and five others are under investigation for allegedly possessing and intending to distribute synthetic cannabis near two U.S. military bases this year.
A joint raid in May by the Pyeongtaek Police Station and the Army's Criminal Investigation Division found 2.7 ounces of synthetic cannabis, over 145 ounces of "mixed liquids" for vaping and $12,850 in cash at the 22 suspects' homes, the Southern Gyeonggi Provincial Police Office said in a news release Wednesday.
The 17 soldiers are stationed at Camp Humphreys, about 30 miles south of Seoul, and at Camp Casey, an Army outpost about 25 miles north of the capital, according to the provincial police.
The suspects possessed or trafficked synthetic cannabis between March and August, police said. One male soldier, 24, is believed to have smuggled around 11 ounces of synthetic cannabis into the country in plastic bottles.
Images released by the provincial police showed plainclothes Army investigators and local police searching barracks at Humphreys and Casey and off-post homes.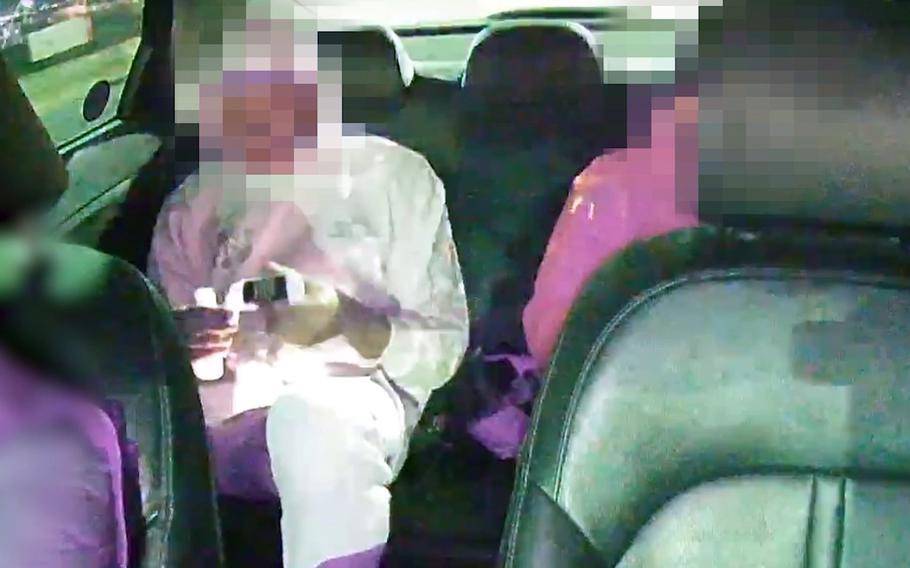 This undated image, censored by police, shows two U.S. service members accused of trafficking synthetic marijuana in Pyeongtaek city, South Korea. (Gyeonggi Provincial Police Office)
Another image shows what police said are two U.S. soldiers in the backseat of a taxi pouring a bottle of synthetic cannabis into another container for distribution.
The joint investigation was launched early this year after Army investigators informed police of suspected drug trafficking, a Pyeongtaek police detective told Stars and Stripes by phone Wednesday.
South Korean officials regularly speak to the media on the customary condition of anonymity.
Synthetic cannabis "is not easy to detect" due to its use in legal e-cigarette devices and the investigation could only have been achieved through the close cooperation with Army investigators, the release said.
"The police have declared a war on drug crimes and are focusing their investigative efforts to respond vigorously," the release said. "In the future, we will continue to investigate U.S. military personnel … with the U.S. Army's Criminal Investigation Division."
The Suwon City District Court declined to comment by phone Wednesday on whether charges were filed against the 17 service members.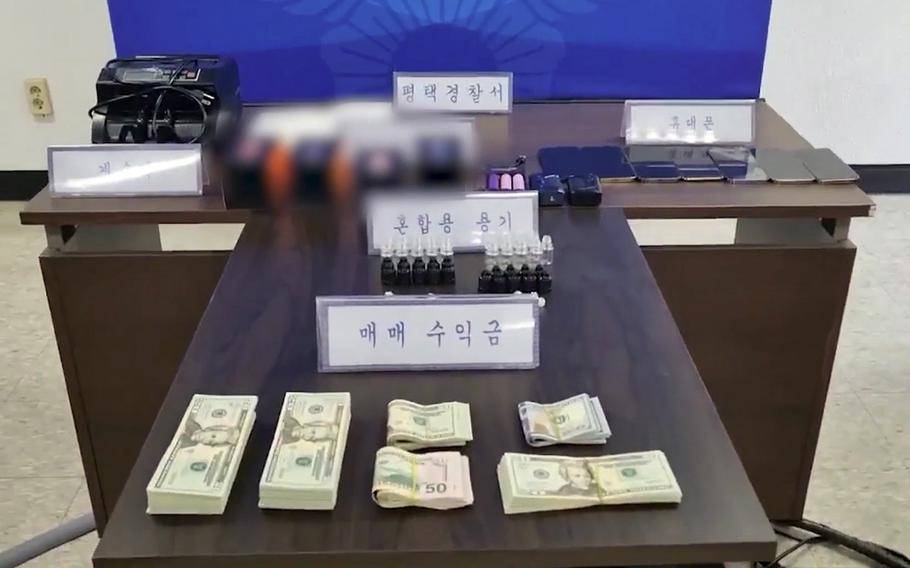 This undated image, censored by police, shows evidence collected after a synthetic cannabis raid in Pyeongtaek, South Korea. (Gyeonggi Provincial Police Office)
The five other suspects include two women, including a South Korean dating one of the soldiers suspected of importing the synthetic drug, a Pyeongtaek police officer told Stars and Stripes by phone Aug. 4.
The 2nd Infantry Division and Eighth Army did not immediately respond to requests for comment by phone and email Wednesday.
Synthetic cannabis is banned under South Korea's Narcotics Control Act and under U.S. military regulations.
A narcotics trafficking conviction carries a minimum five-year prison term in South Korea. Drug possession carries a maximum sentence of five years in prison or a fine of roughly $38,200.
Stars and Stripes reporter Yoo Kyong Chang contributed to this report.