Military reunions will always be one of the most touching moments ever. This military dad surprised his kids with a clue that he was already home one snowy, wonderful day.
Luke, a loving dad, and the nation's hero was finally home after being deployed for more than a year in Iraq. He has three affectionate kids–a boy and two girls.
Luke left his green duffle bag in front of their house. His son immediately inspected it and wondered to whom it might belong. A woman was in the background, recording the moment, and kept on asking the kids, "what is that?"
One of them said, "daddy?" but she was unsure that the bag belonged to him. Then, out of nowhere, the kids saw their father from afar and instantly ran toward him.
The dad and his children hugged one another tightly for a few minutes. The kids could not believe that he was home, and all of them were in tears. Their dad was also very emotional. He tightly hugged and kissed them. I assumed that the woman who documented this special moment could be their mom.
Guess it will be a merry and joyful Christmas for this family. Not only because the pack leader is now home, but he's finally, home for good. There's no need for him to go back to the field anymore.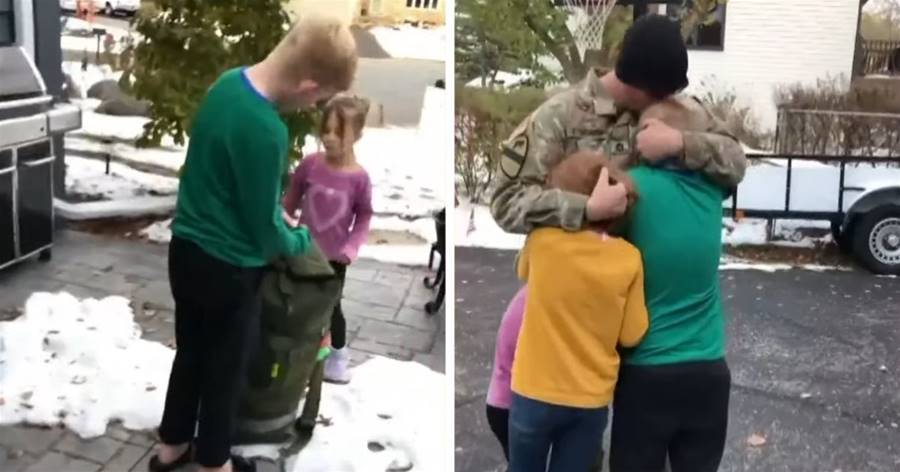 A father's presence is very comforting and assuring. If the kids felt so loved by just being around their dad for a few minutes, God's presence can do so much more. He is present everywhere at all times. As a Father, He delights to shower us with His love and reassuring presence 24/7.
"And he said, "My presence will go with you, and I will give you rest." Exodus 33:14